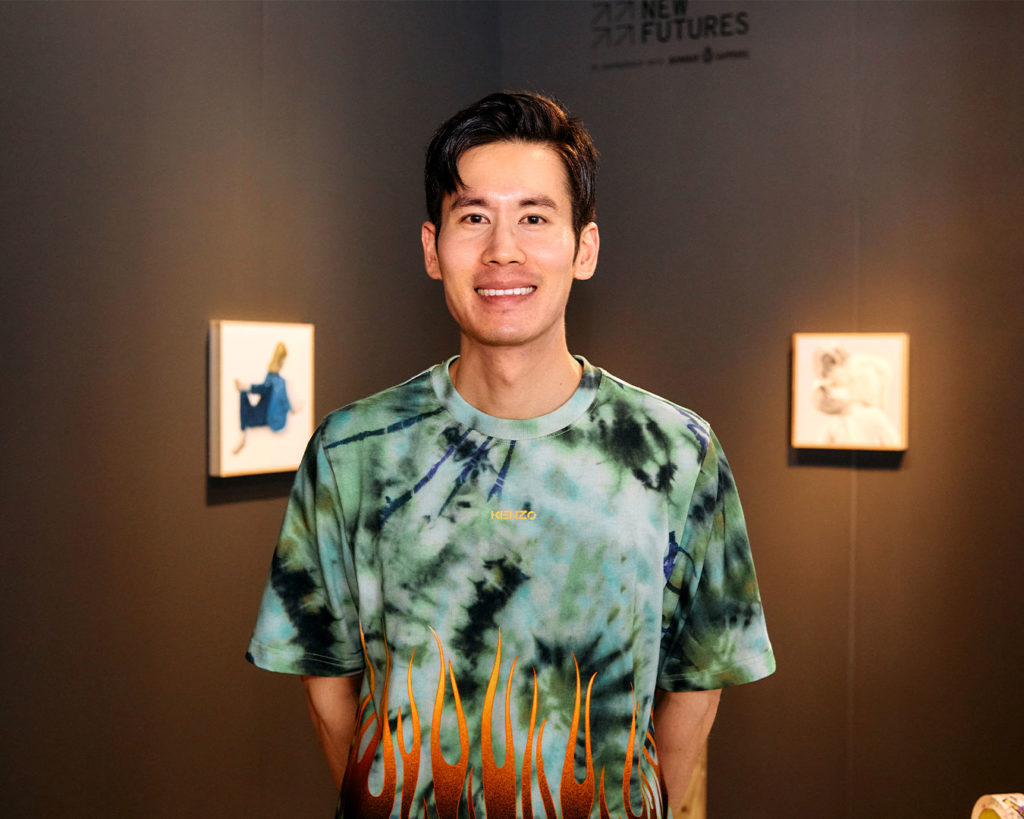 Art should never be elite. Here, art is an inclusive journey and we're bringing everyone along for the ride.

The New Futures program is part of our continued mission to break down traditional barriers of the contemporary art world by giving prizing to talented, often underrepresented, emerging artists. Each recipient is given free exhibition space at The Other Art Fair along with access to networks and opportunities designed to jump-start their careers.
Recipients are chosen in collaboration with art world experts and local creative partners to bring their respective talents and differing perspectives. NEW FUTURES CLASS OF 2023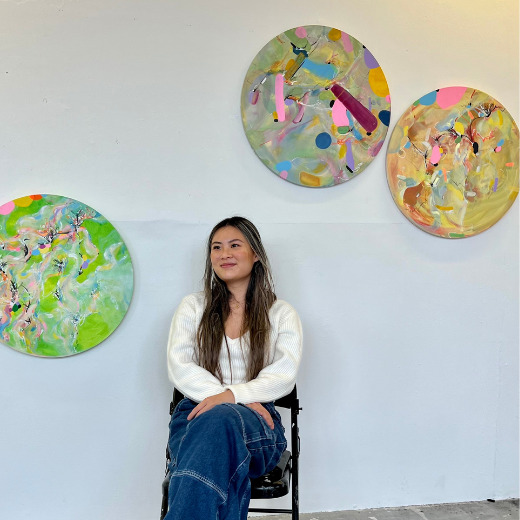 Heiyi Tam
London
Heiyi Tam is a Hong Kong-born artist based in London. Her work is inspired by the fallibility of memories and the ephemerality of everyday moments. She explores sensorial qualities of specific moments such as the bursts of sweetness from strawberries or the smell and textures of freshly cut grass.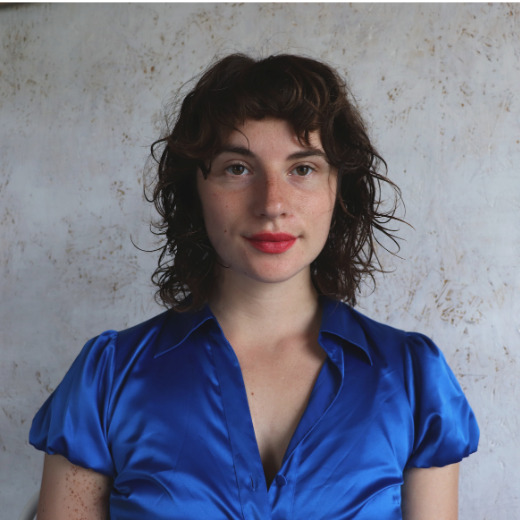 Eleanor Cox
London
Inspired by unrecognisable soundscapes that leave you to dream into their possibilities, Eleanor's oil paintings are an attempt to contemplate what can be seen in darkness – what shapes, colours and Imaginings happen in the gloom – and to think of inside/outside as it relates to both the literal interior space, but also what is within or what is outside of understanding. Windows are empty of light and view, objects sit unsettled, while rooms lie empty as if anticipating or recovering from something no longer there.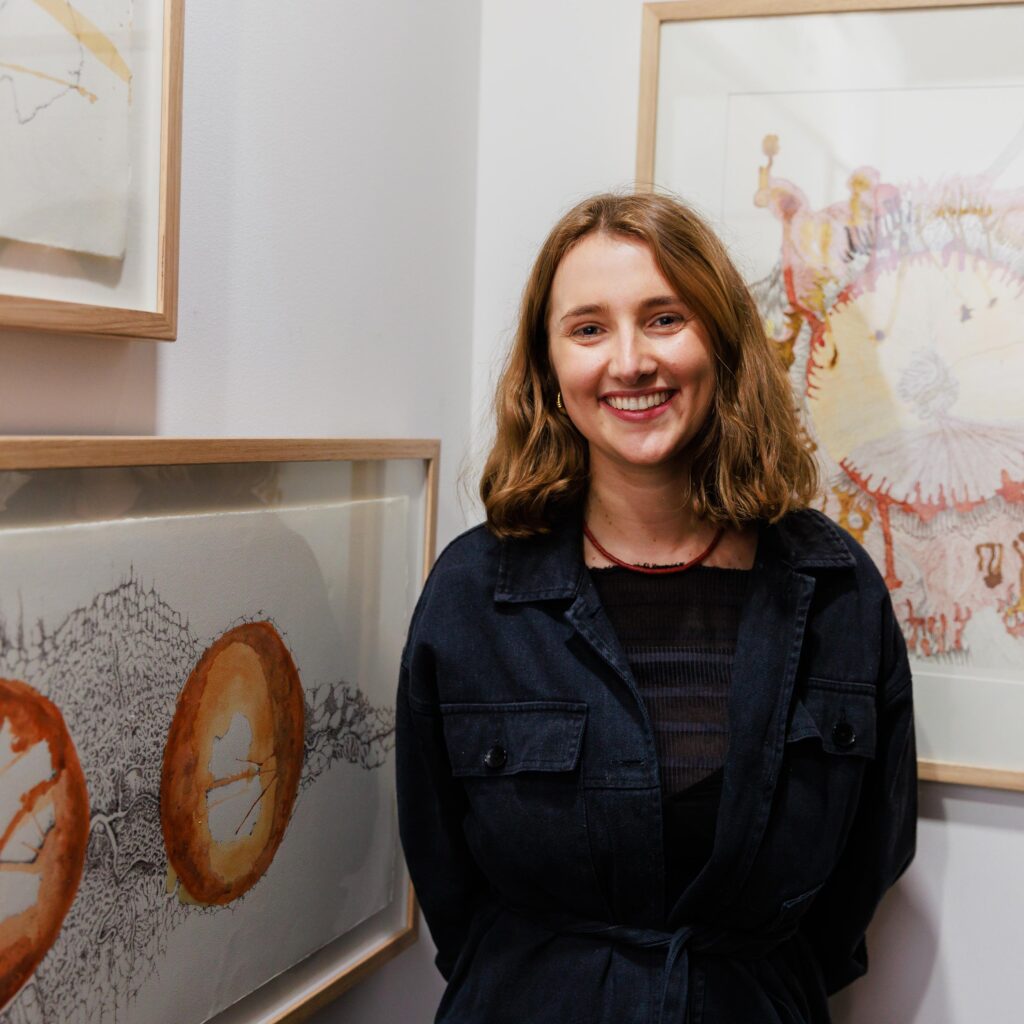 Anna Seymour
Sydney
Anna Seymour is an early career artist who practices between the lands of the Darkinjung (Central Coast NSW) and Wiradjuri people (Orange NSW). She embodies walking as her primary methodology to gather ecological observations, which are documented through drawing, textile and installation. Anna engages a circular approach to materiality, intending to leave minimal trace and impact upon the earth.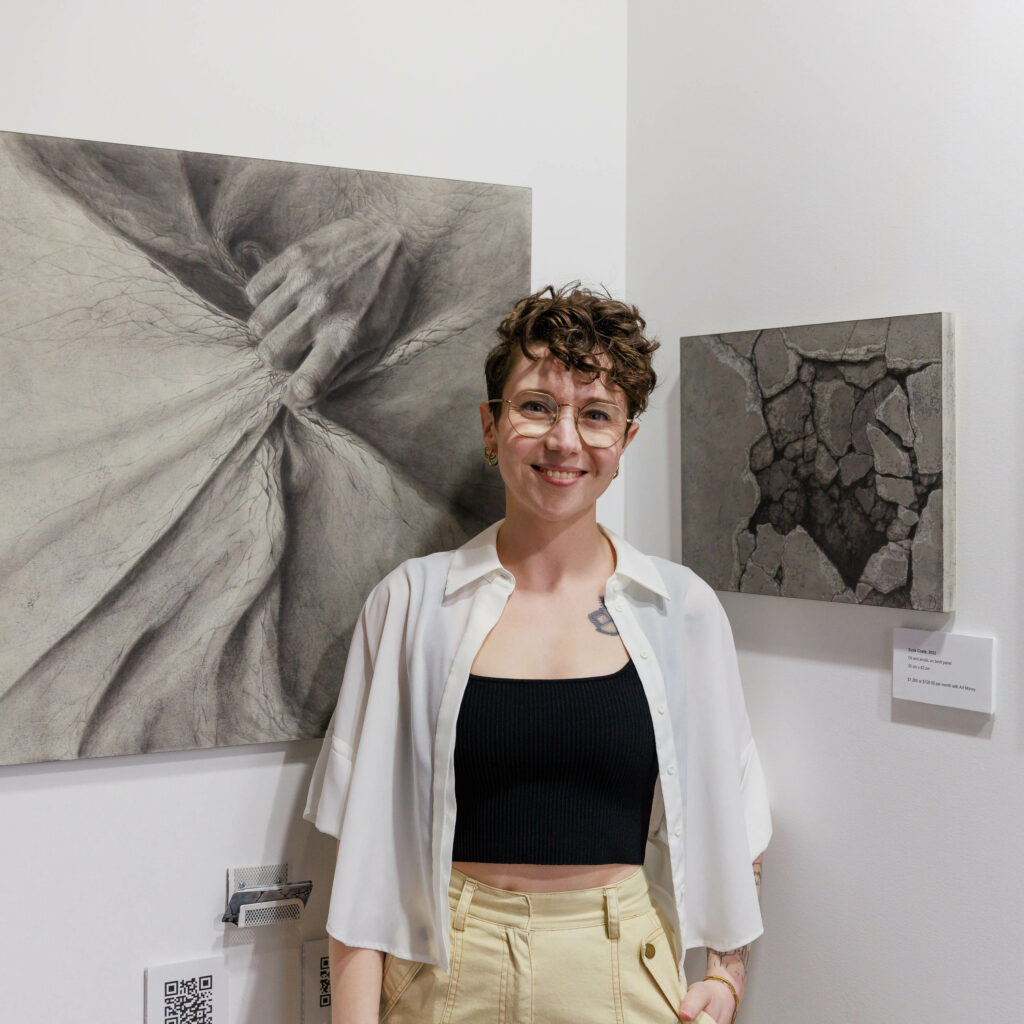 Ysabel Darling
Sydney
Ysabel Darling is a self-taught, hyperrealist painter whose work focuses on women's empowerment and communicating their lived experiences. The hyperrealism of her work is achieved with a dry-brush technique which involves the application of very thin, semi-transparent layers of paint (sans medium) to create a range of dark to light values.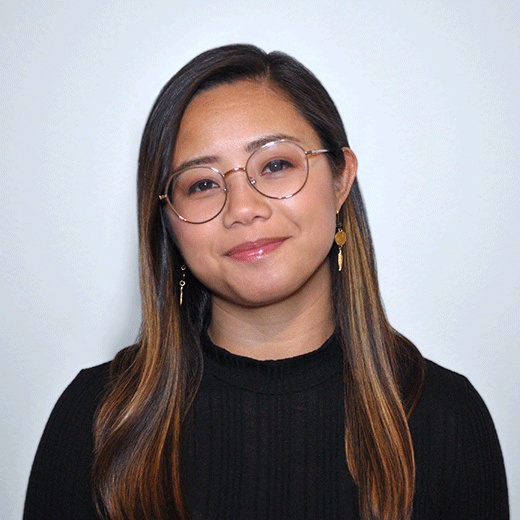 Anna Mikhaela Reyes
Dallas
Anna's romantic drawings allow something beautiful to bloom even in the darkest corners of one's being. Her drawings tenderly intertwine personal vulnerabilities and interpersonal connection. She explores this blend of romance and melancholy through botany and the human figure. A bittersweet beauty really.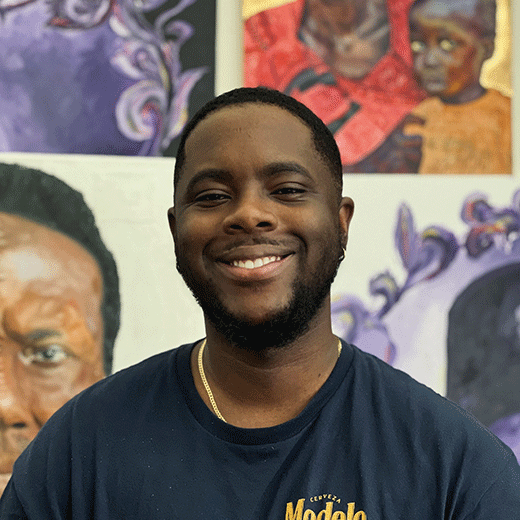 Mandla Senzanje
Dallas
Mandla is rewriting history, one artwork at a time. His oil portraits confront the pervasive impact of colonization and neocolonialism left across Africa. By acknowledging this troubled past, his works encourage you to become empowered and take back the power that is rightfully yours.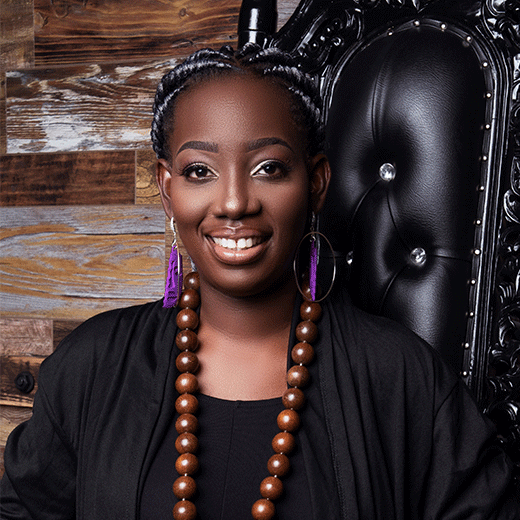 Atinuke Osibogun-Adeleke
Dallas
Atinuke's artistic practice centers on her personal history, connection and identity. She's an interdisciplinary artist and designer who has lived on three continents. She incorporates how these experiences have reshaped her world time and time again. Her works are rooted in the traditional culture and practices of Nigeria, Western woodworking techniques and modern art processes.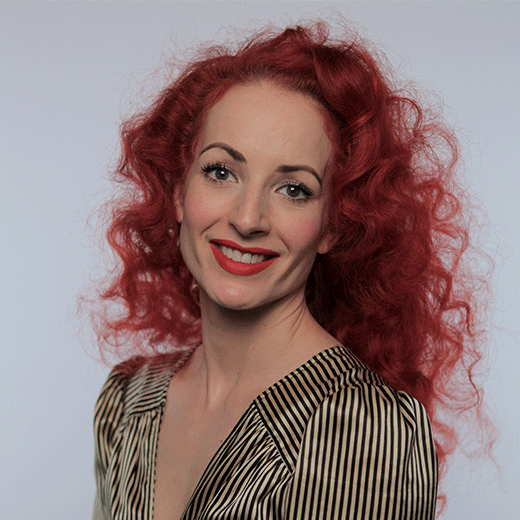 Carly Petersmeyer
Los Angeles
Mind-bending and dynamic, Carly's collagescapes will leave you entranced. Her vibrant works reflect movement, the wide expanse of human experiences and the emotions we feel. Her desire to connect with people compels her to use imagery that pulls the viewer in to create unique, emotional exchanges.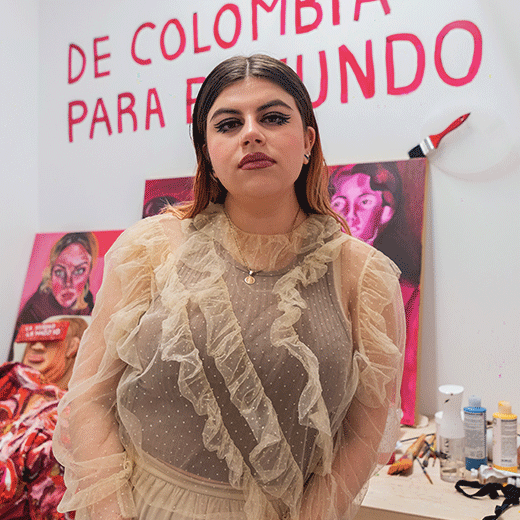 Natalia Palacino Camargo
Los Angeles
Natalia pushes the boundaries of the body and how it is impacted by the cultural and environmental landscapes in Colombia. Her artwork centers on the experience of marginalized bodies and the immigration from rural landscapes to urban cities. Natalia is an interdisciplinary artist from Bogotá D.C. based in Los Angeles.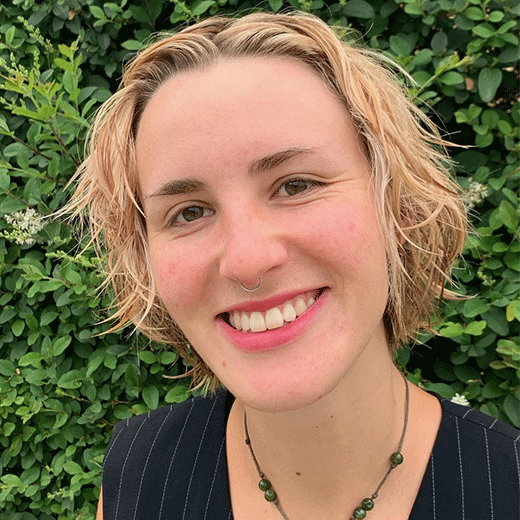 Maia Weisenhaus
Los Angeles
Maia's photography is thought-provoking and highly experimental. She ventures into altered landscapes and builds her own worlds of feminist science-fiction. Step inside her futuristic enigma with us. There's something waiting for you in the primordial soup on Girl Planet.
Amy Chasse
Brooklyn
Amy Chasse is a multimedia artist from Connecticut who now lives in Brooklyn, NY. She draws inspiration from her rural upbringing, thrift store finds, and old movies. Her works use bright colors and humor to bring to life emotionally and physically drained characters in everyday situations. Chasse's work has been exhibited in several galleries, including "HIGH MAINTENANCE" at Tchotchke Gallery in Brooklyn and "El Futuro Es Queer" at PRPG.MX in Mexico City, as well as in New York City and Florence, Italy.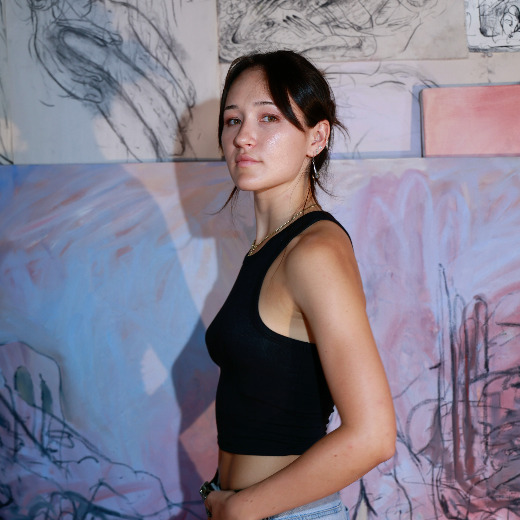 Phoebe Quin Kong
Brooklyn
Phoebe Quin Kong is an artist and painter from LA, now based in Brooklyn. Her compositions feature graphic, caricature-like creatures that express familiar yet unnerving emotions. Kong received her BA from Dartmouth College in 2021 and has exhibited her work at The Sotheby's Institute of Art, Pen + Brush Gallery, and more.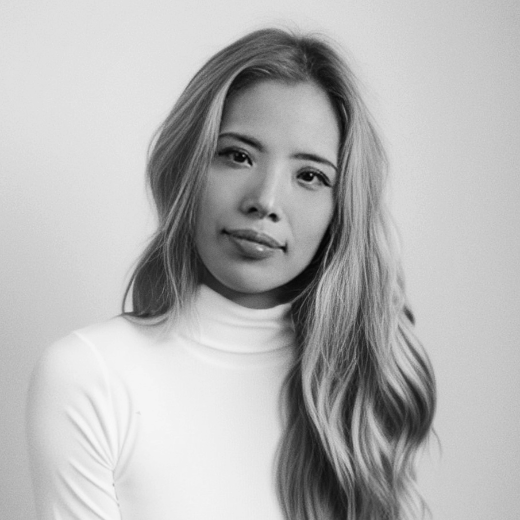 Davina Hsu-許 芳 禎
Brooklyn
Davina Hsu is a transdisciplinary artist from Taipei, currently based in New York. Her art focuses on fiber and socially engaged art to promote self-awareness and social intimacy. Her work is inspired by vibrational energy, mysticism, and materiality. She uses felting and tufting to explore the interplay between material and spiritual integration in her fiber sculptures. Her art is a symbolic expression of her energetic visions of vibrational ascent and spiritual realization.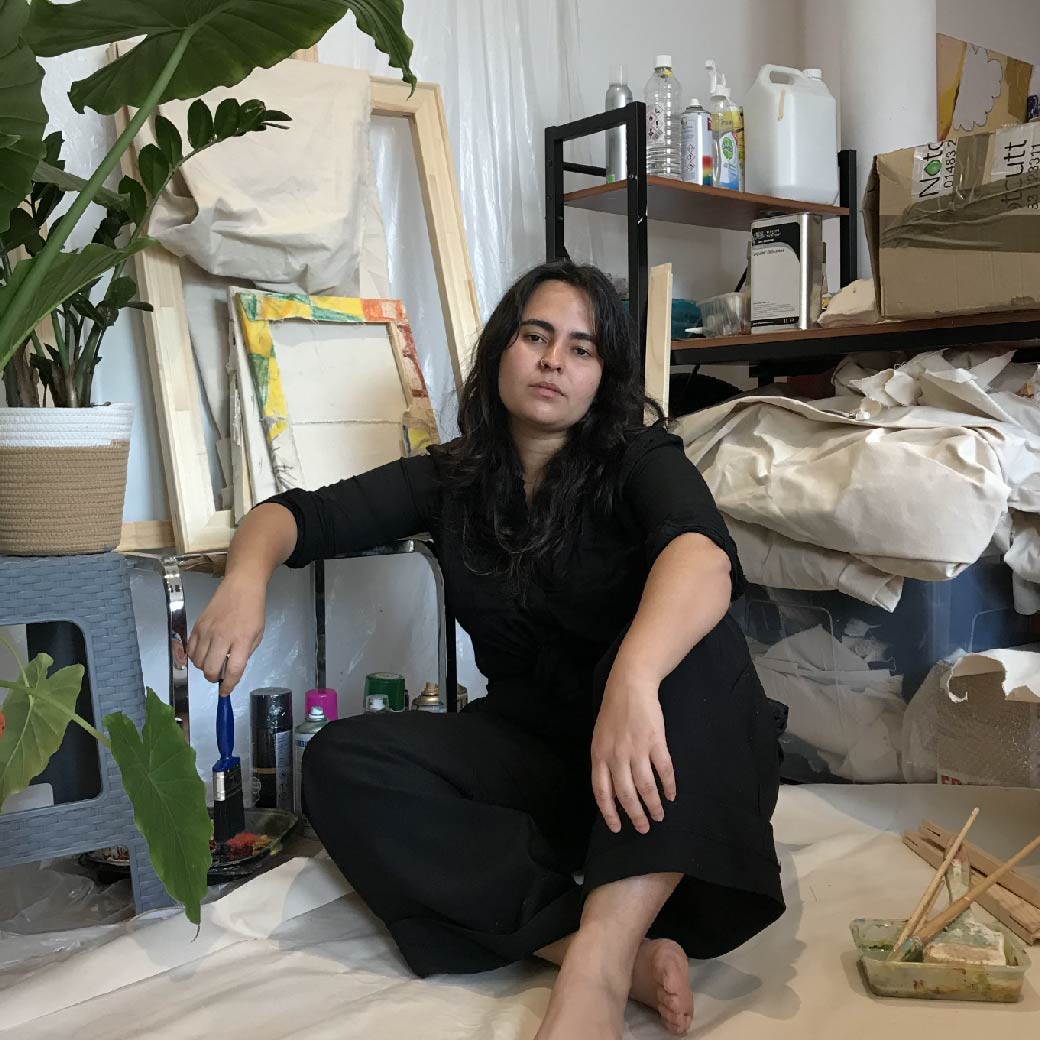 Marion Aschbacher
London
Marion Aschbacher is a London-based, Reunion Island-born artist specialising in painting and sculpture. Her work explores themes of diaspora and nostalgia, referencing her home country to draw upon cultural references and experiences surrounding her childhood. Marion graduated from Goldsmiths University with a BA degree in Fine Art and has featured in numerous group shows in London. She is currently part of Floor Five collective.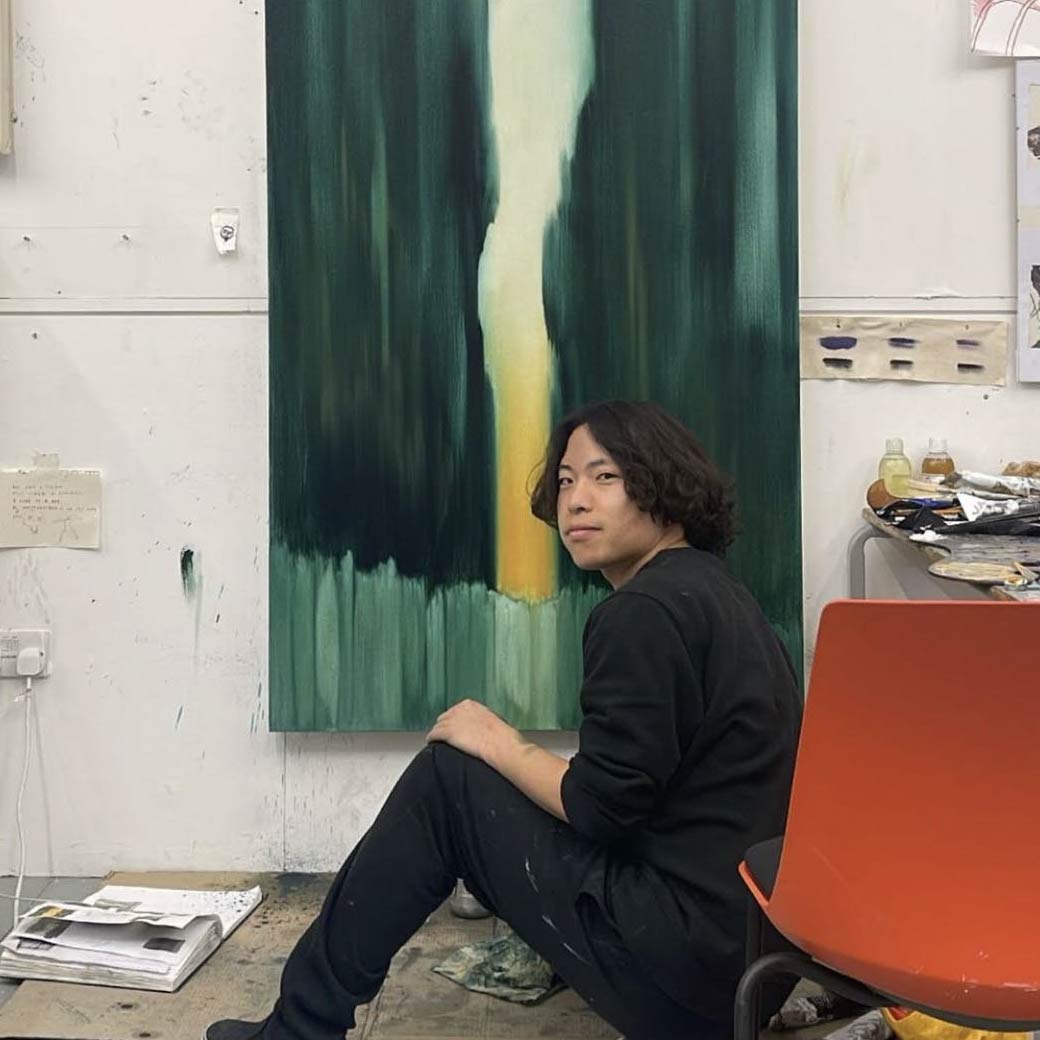 Keisuke Azuma
London
Keisuke Azuma is a London-based artist from Japan. His practice revolves around emotions and memories portrayed through landscapes and the natural world. A wide range of people are able to connect with Keisuke's work regardless of their familiarity with contemporary art as his artwork invites them to explore their own inner states, opening up an infinite range of interpretations and meanings. Keisuke studied Fine Art at Chelsea College of Arts where he developed his intuitive abstract expression.
Brianne Moore
Dallas
Brianne More paints to uplift and honor women of the past, present, and future. Her bold use of colors create images that encourage women to love themselves, to be themselves, whatever that looks like. Brianne invites women of color around the world to view themselves as powerful, beautiful, vibrant, creative, dynamic, and human.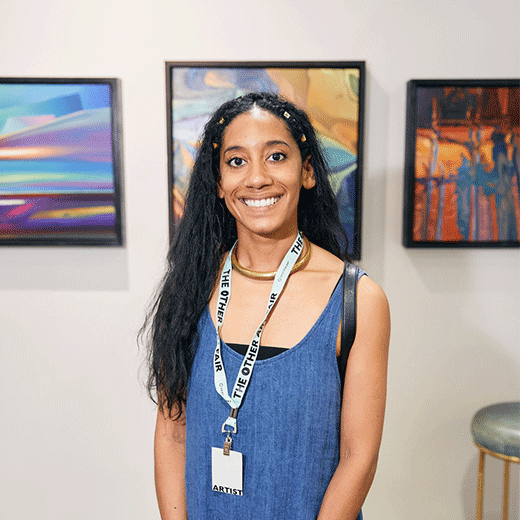 Jessica Vollrath
Dallas
Jessica Vollrath tells spiritual narratives of humankind's eternal search for its' connection to immortality. Raised outside of conventional ideations around gender, race, body and identity, her work explores deeper existential questions regarding who we are in connection to the whole. Jessica works primarily in oil paint.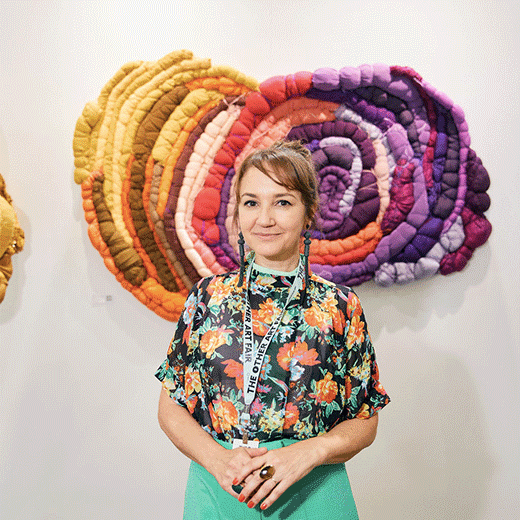 Mônica Lóss
Dallas
Mônica's organic shapes and tubular forms made of textiles will transport you to the sea. In her artistic practice, Monica explores textiles, photography, performance, even sensory and wearable objects. Born in Brazil, Mônica currently lives in Dallas.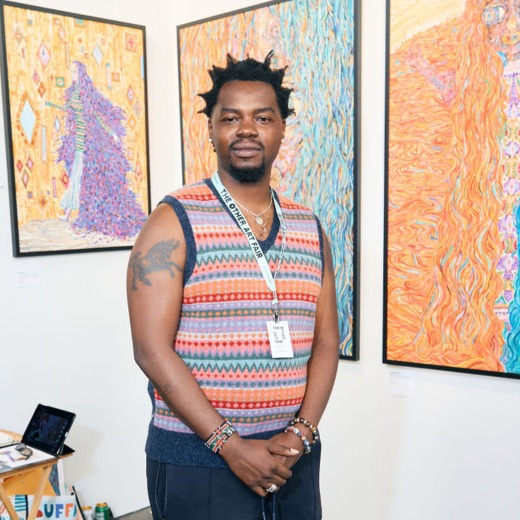 Arthur Midianga
Brooklyn
Arthur Midianga is a Kenyan American expressionist based in Brooklyn, NY. Passionate about his craft from an early age, he is returning to the art world with a vengeance after working on Wall St for the last few years. Through each brush stroke, his art allows him to become an extension of his ancestral history, amplifying the voices of the unheard.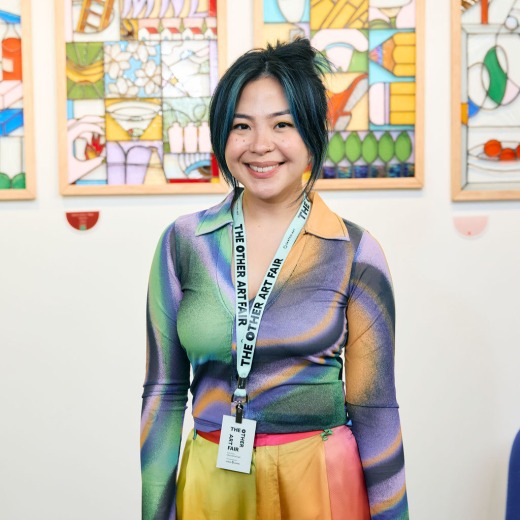 Sacha Carlos- Raps
Brooklyn
Sacha ('sa-tcha') Carlos – Raps is a Filipina immigrant and self-taught artist based in Brooklyn. She specializes in stained glass, printmaking and illustrations. Her art practice is her rebellious demonstration against the good immigrant binary and the post-diasporic expectations for "first gens". Through figurations and visual narratives, Sacha aims to provide memoiric totems that embrace the kaleidoscopic inner self and the absurd. It will always be an invitation for communal interaction and dialogue.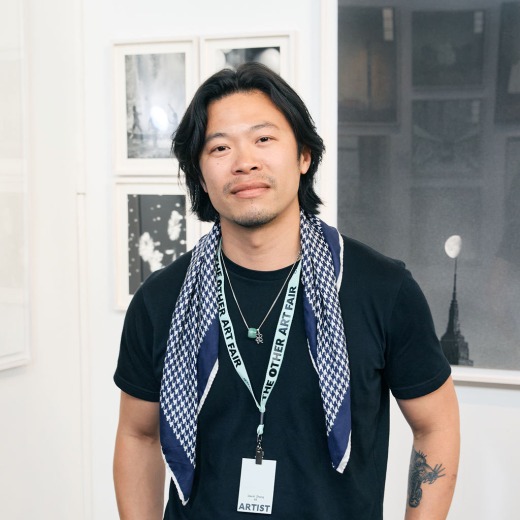 David Zheng
Brooklyn
Born and raised in the Lower East Side of New York City, David's photographs are an observation into the dynamics between the environment and those who inhabit them. Working primarily with analogue photographic materials and processes, David's curiosity is shaped by the interaction between the materiality of a photograph, and the constant negotiation between chance and control.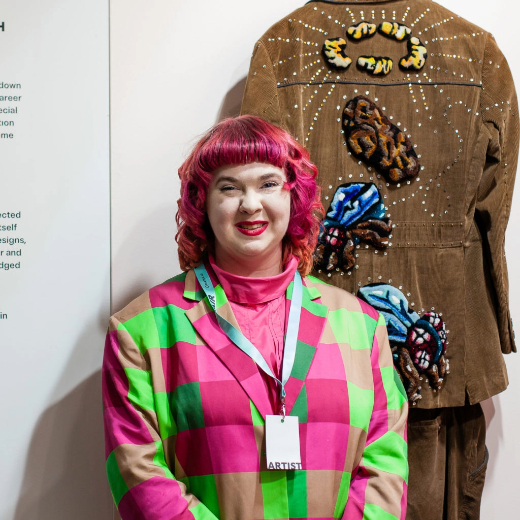 Quirky Bones
Sydney
Quirky bones is a multi-disciplinary artist, working mostly in textile and fibre artists. Her work in inspired by the natural world, and anatomy, creating interactive and sometimes education pieces, that challenge viewers ideas of the objects they interact with on a daily basis – expect to see anatomical rugs, tufted objects, and perhaps even wearable pieces!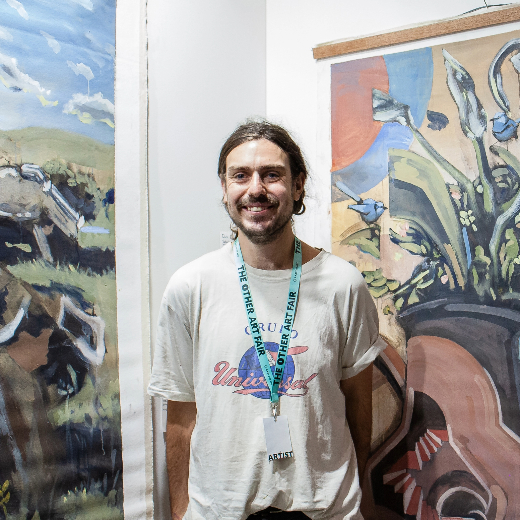 Elliot Guerrisi-Watson
Sydney
Elliot, also known as 'Elbow' has been painting since he was 13, both on the canvas and in the street. He's worked on large scale murals as well as on canvas, combining the brush and aerosol and challenging traditional notions of painting and fine art. He's focused on bringing viewers into the process, rather than celebrating the spectacle of art that is often reinforced in traditional art spaces.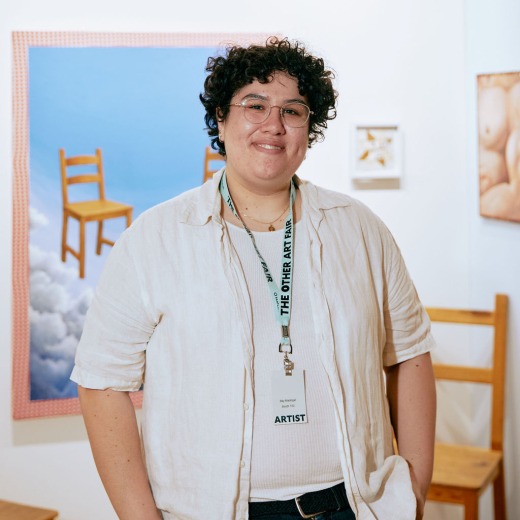 Ray Madrigal (They/ Them)
Chicago
Ray Madrigal is trying to think clearly in a foggy time, and making helps them do that. Madrigal hopes that whatever clarity, absurdity, and medicine they dig up in their own work may also be experienced by those who encounter it. They have a queer soft spot for things that are trying their hardest (and often failing) to be something they are not.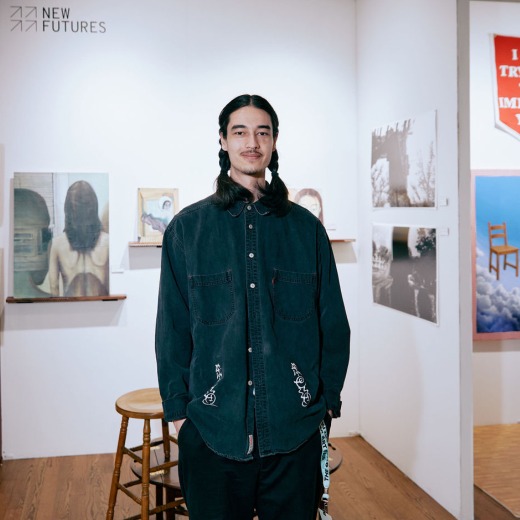 Theo Schweiger (He/Him)
Chicago
Theo Schweiger萧世通 is a Chicago-based artist who specializes in painting, drawing, and photography. His work explores subjective reality through the use of figures and experiences, focusing on perspective, emotion, reflection, unconscious, and time. By embracing the unforgiving, cyclical relationship between imagination, hope, and memory, he emphasizes the fleeting and malleable nature of existence.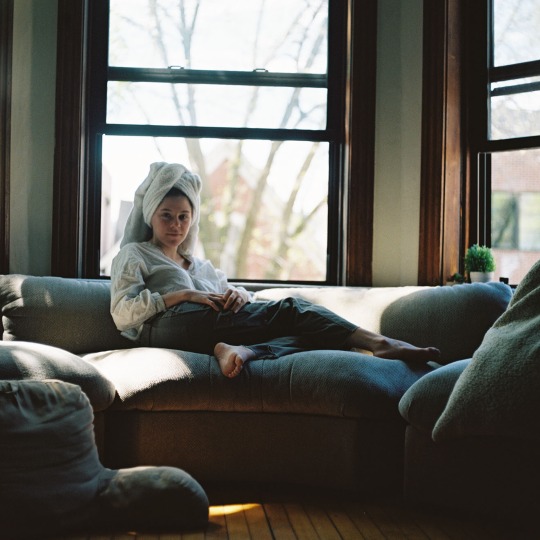 Emilie Plunkett
Chicago
Emilie Plunkett (they/them) is a poet and photographer based in Chicago, their practice focuses on the domestic space and the mess, comfort and materiality of that intimate environment. They enjoy long walks by the lake, Alice Austen's photographs and plums.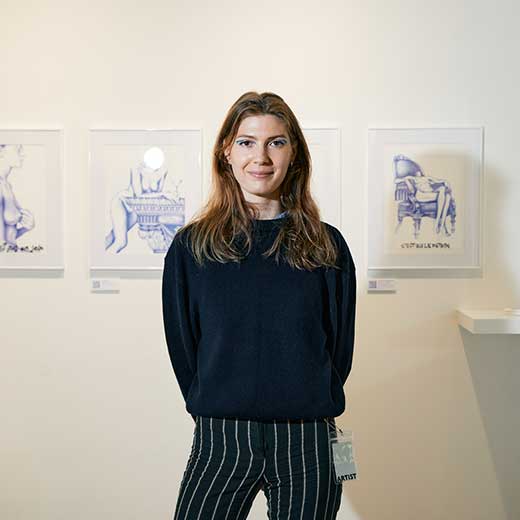 Solène Biche
Los Angeles
Solène Biche is a French artist and architectural designer. Her work playfully interprets and unpacks global issues that reflect today's cultural and commercial landscape. Solène's decadent monuments catalyze connection and empowerment.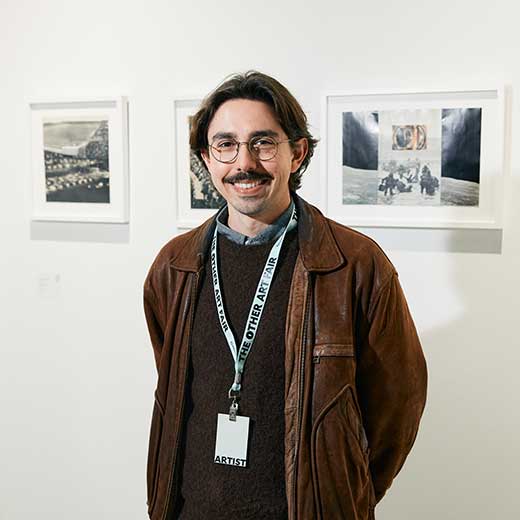 Alexander Helmintoller
Los Angeles
Alex's daring approach to collage challenges Post-War American Mythology. They explore the early 20th century displacement of Jewish families and the effects of war, mass production and false salvation. Their ongoing series, Invented Futures, reimagines nationalism, memorialism and connection across generations.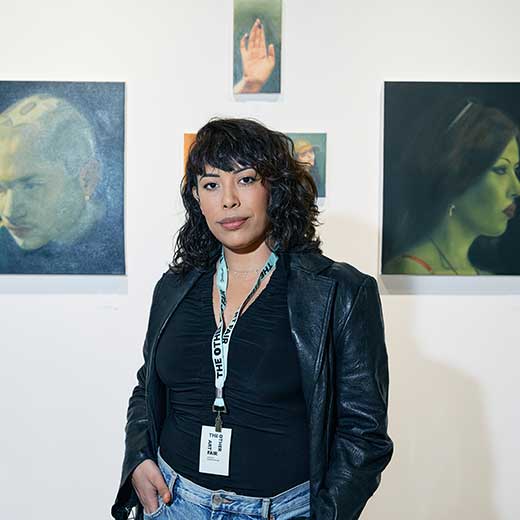 Emiliana Henrqiuez
Los Angeles
Step into Emiliana Henriquez's world of women. Inspired by both classical and modern figurative artists, her bold uses of lime green, deep red, and cobalt blue create mythic worlds sparking deep emotional connections of vulnerability and solace. Emiliana's dreamlike landscapes transcend cultural differences and bring us closer together.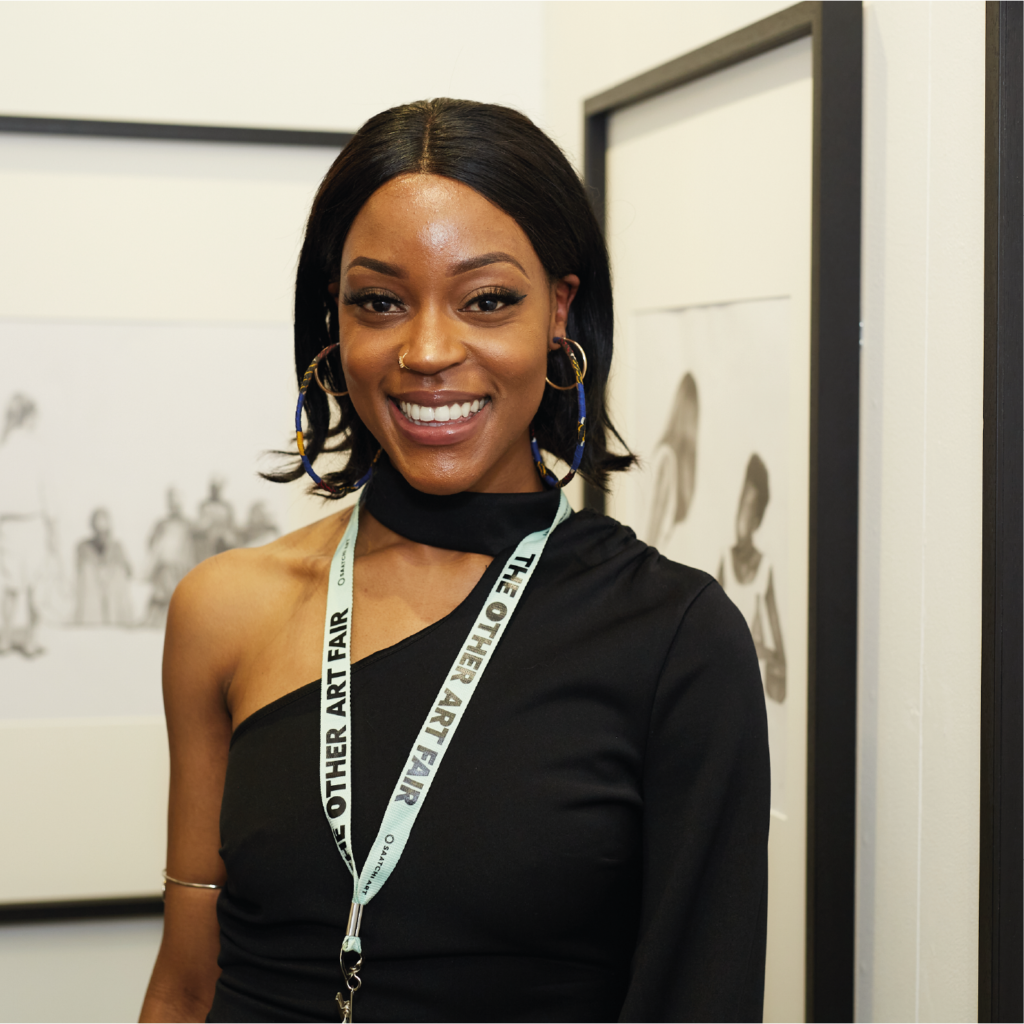 Natasha Muluswela
London
Natasha Muluswela's intricately detailed drawings explore body positivity whilst simultaneously shaking off the white gaze. Hugely thought-provoking and one to watch.⁠