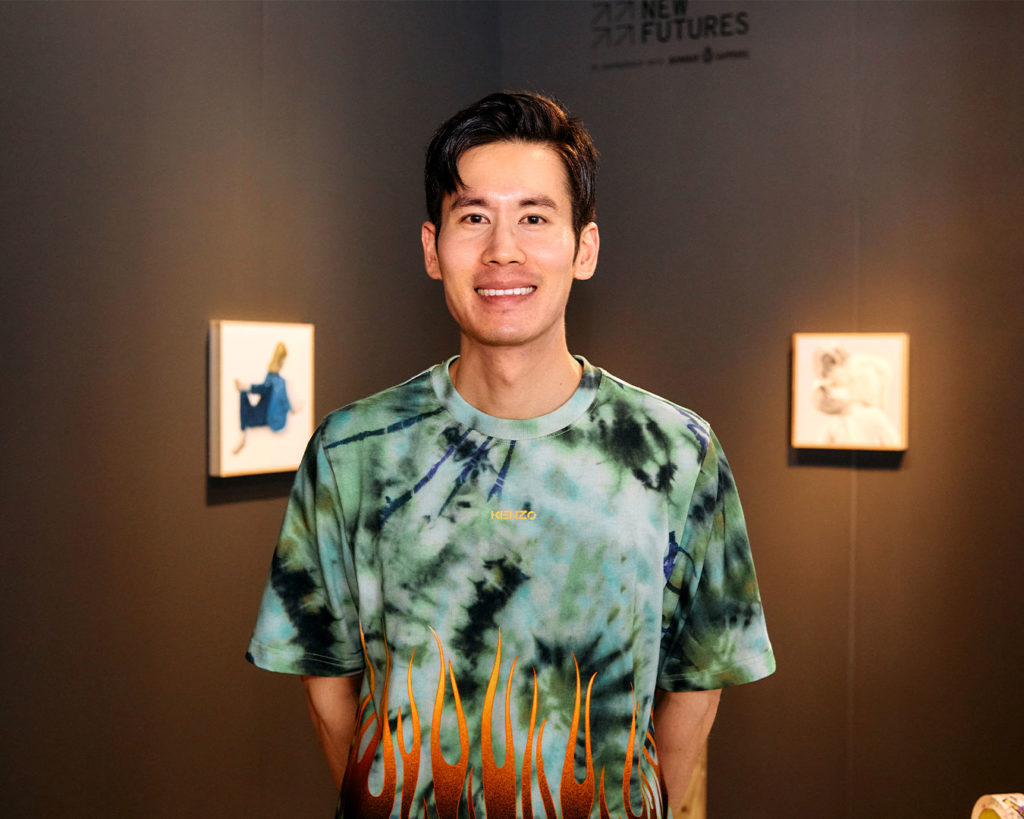 Art should never be elite. Here, art is an inclusive journey and we're bringing everyone along for the ride.

The New Futures program is part of our continued mission to break down traditional barriers of the contemporary art world by giving prizing to talented, often underrepresented, emerging artists. Each recipient is given free exhibition space at The Other Art Fair along with access to networks and opportunities designed to jump-start their careers.
Recipients are chosen in collaboration with art world experts and local creative partners to bring their respective talents and differing perspectives. In addition, we are delighted to partner with BOMBAY SAPPHIRE® for our U.S. Fairs to further amplify the program and provide additional collaboration opportunities. NEW FUTURES CLASS OF 2022
Reyon Nurse
Dallas
Also known as "Dreadsoftly," Reyon is a painter who was born in Trinidad and Tobago and raised in San Diego, CA. The punchy imagery and strong command color that are a hallmark of his work's style were learned through years of trial and error using makeshift canvases and stray paints in his mother's garage.
Adetoun – Fadekemi
Dallas
Adetoun Fadekemi Akinmboni is a contemporary artist whose passion started in her early years in Nigeria. Self taught, her style is quite spontaneous and based on her feelings. Her abstract and digital designs work to translate these emotions by using intense colors combined with line structures.
Assandre Jean-Baptiste
Dallas
Inspired by Huey Freeman and Black Dynamite from TV shows growing up, "Huey Dynamite" is a moniker created by Assandre to signify the "explosive" power of color in his artwork. Using acrylic paint as his main medium, this fine-arts painter focuses on subjects as rich in personality as they are in color.
Nitashia Johnson
Dallas
Nitashia is a Nigerian-American multimedia artist and educator. Her photography collection, titled "The Self Publication," seeks to dismantle the stereotypes placed on those in the Black community.
Dabin Ahn
Chicago
Dabin Ahn creates two-dimensional paintings and sculptures, playing with perception by challenging conventions of illusion and materiality in popular culture.
Abena Motaboli
Chicago
Abena Motaboli is a Southern African-born visual artist, educator, and writer. She uses pigments of the earth and works with nature and plants around her to form her practice.
Zor Zor Zor
Chicago
A first generation Polish-American street artist from Chicago, Zor Zor Zor is inspired by her everyday thoughts and emotions, characterizing them freely with a pen, pencil, or paint brush.
Anna Sagan
Los Angeles
Anna is an abstract artist and woodworker, passionate about making beautiful pieces of art that evoke authentic and compelling feelings.
Bourn Rich
Los Angeles
Bourn Rich's art is deeply infused by early childhood experiences revolving around sports leagues, the LA graffiti hip hop and skateboarding scene.
Marco Pompilj
New York
Marco is a multimedia artist based in Brooklyn, New York. Despite a formal background in oil painting, Marco utilizes a variety of mediums, including digital collage, video, and drawing.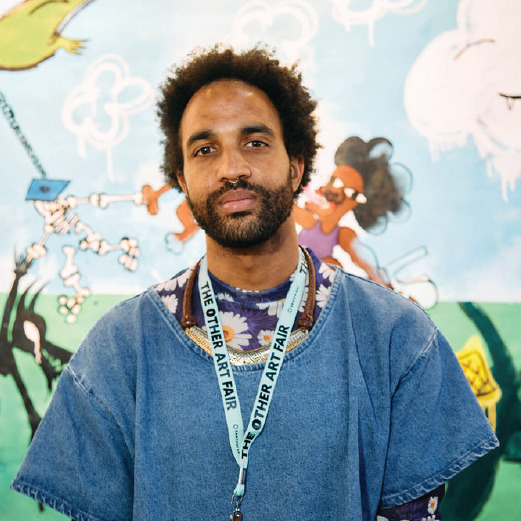 Zella Vanié
New York
Zella is known for their large-scale paintings of protest and Black queer identities that demand viewers to engage with captivity, emergence, and liberation; often drawing from autobiographical experiences, dialogue with their community, and precolonial Guro animism.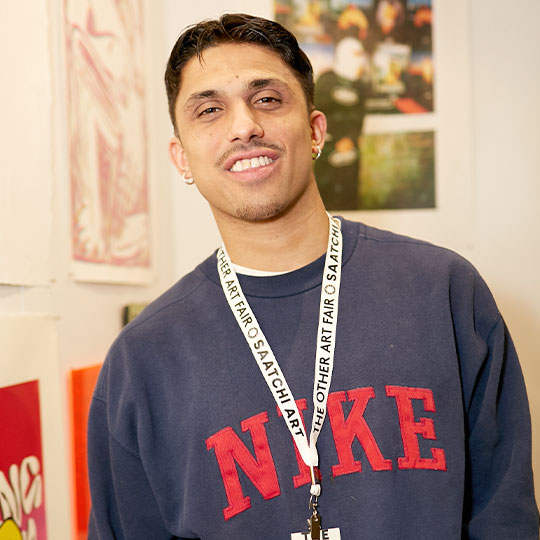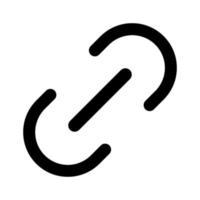 Josh Scurville
London
When describing his work, Josh notes that he is 'usually driven by the cultures of Hip Hop, RnB, Rare Groove, Jazz and Latin Jazz'. Josh's otherworldly work explores the history of music genres and the climates they've created.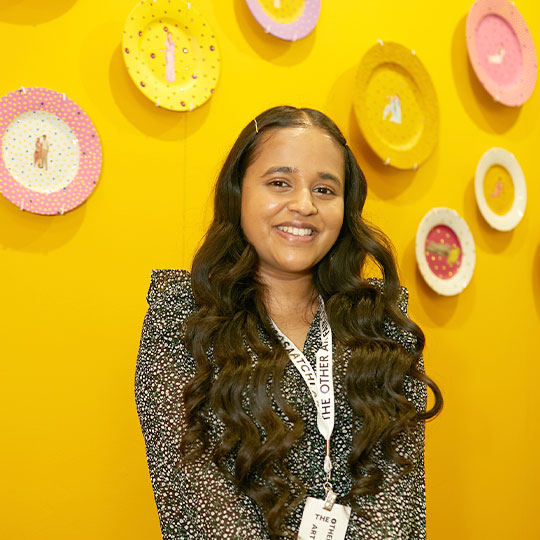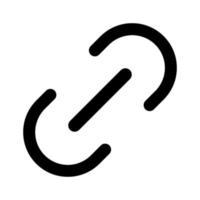 Sara David
London
Interdisciplinary artist Sara looks at food and its societal significance through her artistic lens. Sara's 'takeaway' inspired booth used the traditional Indian lunchboxes, dabbas, as sculptures to house handwritten messages.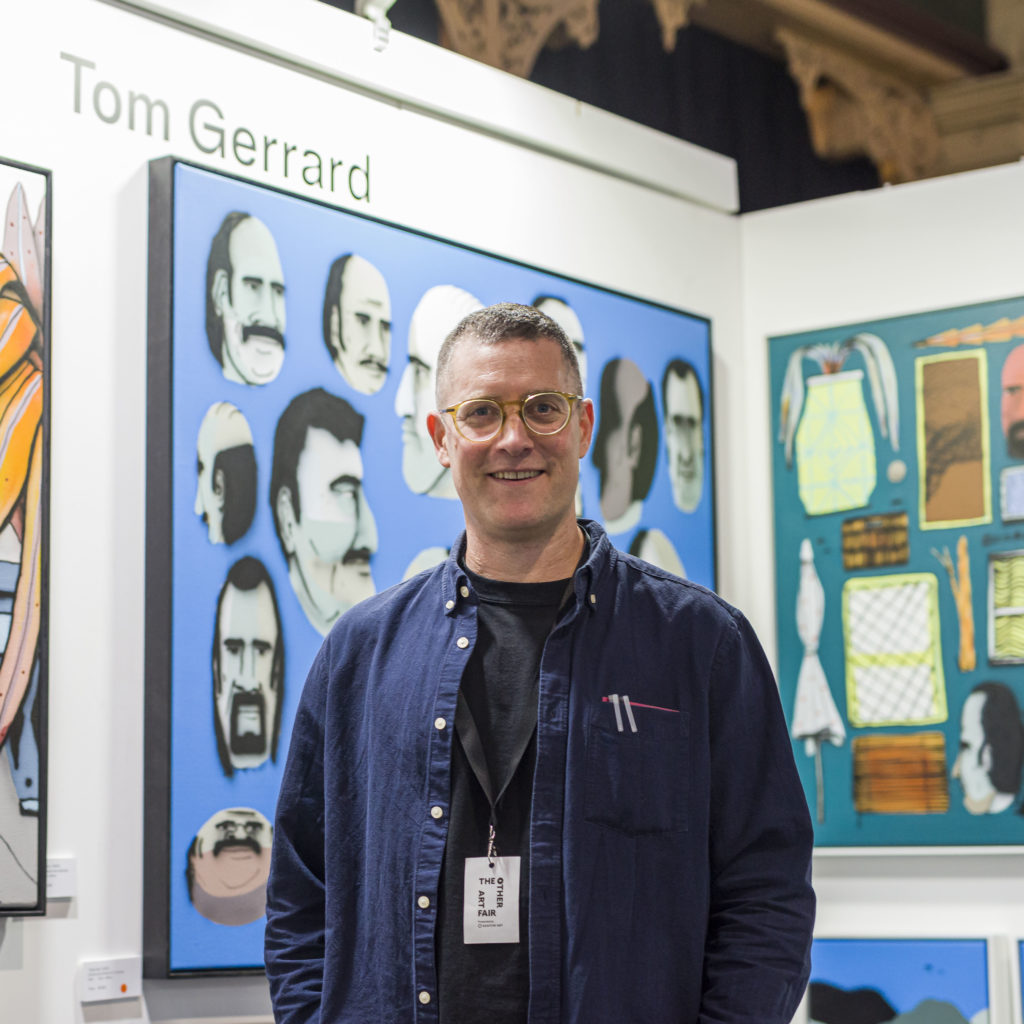 Tom Gerrard
Melbourne
Tom Gerrard is an Australian painter whose works focus on suburban life. His style developed through his prolific international output on the streets, and he incorporates contemporary techniques such as spray paint and airbrush.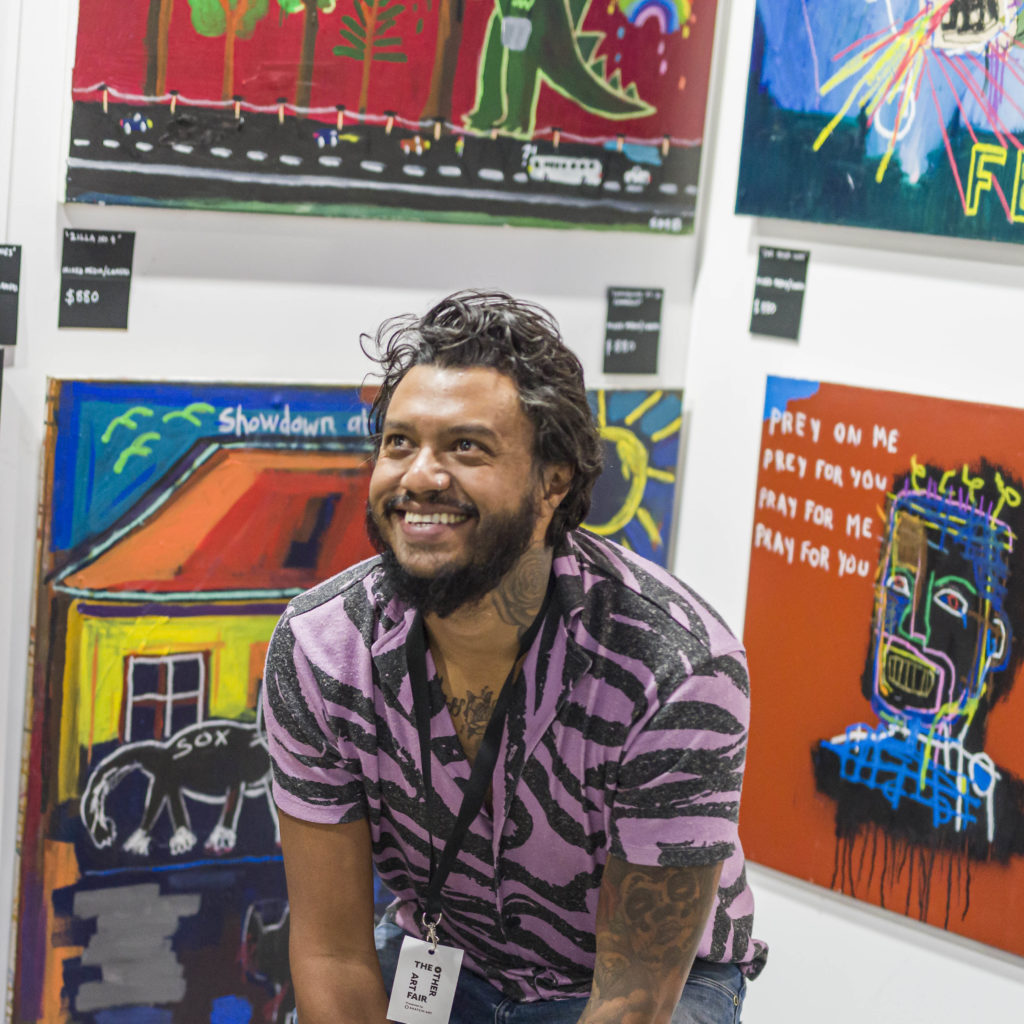 Shane Bonsujet
Melbourne
Shane is a Melbourne-based visual artist, who was born is Zimbabwe. He is self-taught, creating bold works using mixed media, with influences from neo-expression and outsider art. His pieces draw from his own life experiences and you'll see complex stories about identity throughout his work.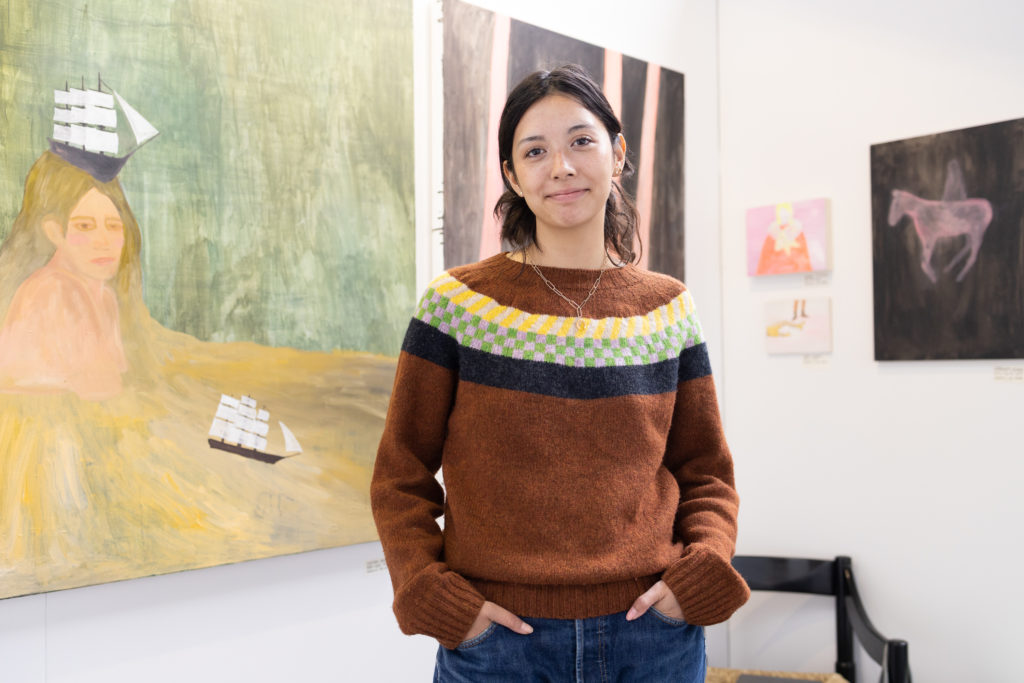 Losel Yauch
London
Tibetan artist Losel Yauch takes inspiration from the relationship between conflict and creativity. The Occupation of Tibet dominated much of her earlier work, whilst colour and composition is the focus of recent work. Her booth will feature a selection of vibrant and collectable pieces.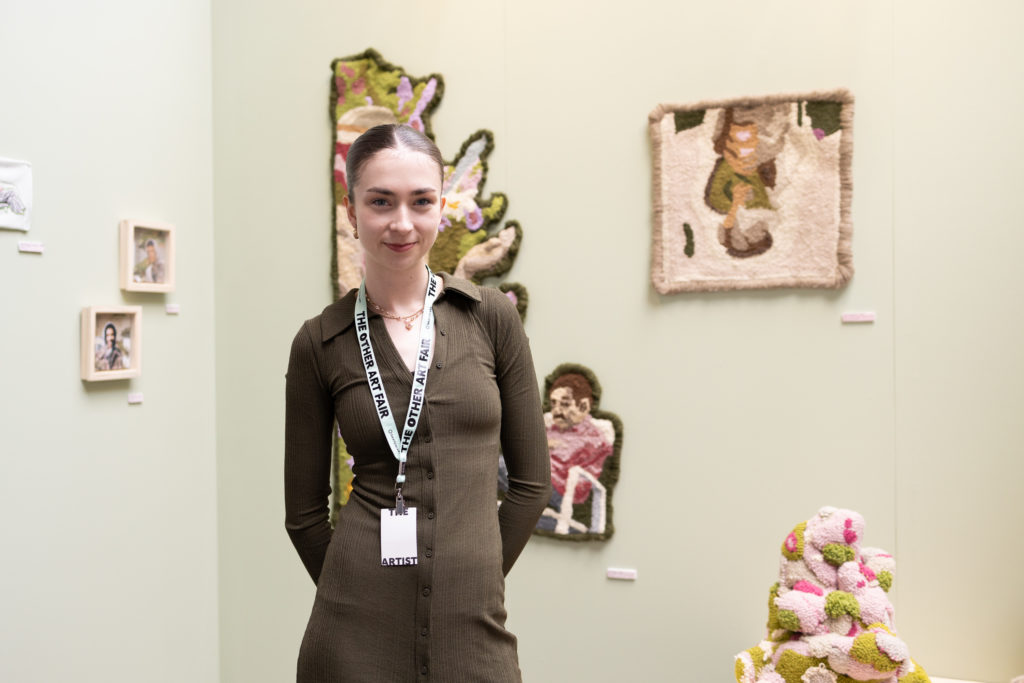 Jennifer Jones
London
Textiles is having a moment, and Jennifer's artistry within Fine Art and Textiles is championing this medium. Her textiles meets tech showcase will explore sci-fi and other-worldly themes, providing you with an experience of comfort and domesticity.