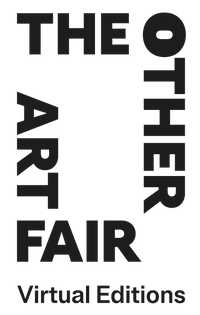 FAIR PROGRAM
Discover everything you love about The Other Art Fair from wherever you are through the Virtual Edition Fair. As well as discovering 150 artist curated booths, visitors can enjoy Saatchi Art's Other Avatars NFTs project, a special collection by House of Voltaire, curator tours, plus Museum of Crypto Art's mesmerising digital artwork. More to come!
The Discovery Room
Explore our dystopian islands of discovery in the sky…
The Discovery Room allows you to filter artist results to find exactly what you're looking for – select your favourite themes or styles and we will do the rest!
The Other Avatars
The Other Avatars is Saatchi Art's genesis NFT project, and a first of its kind in the space: a series of handmade, originally-designed, and stylistically-varied avatars created by an international collective of 154 artists. At the Virtual Edition, explore a special presentation of artwork from the drop, organized by Saatchi Art's NFT lead and curator Monty Preston.
Society6
Virtual Edition Fair Partner, Society6, is an online marketplace of unique wall art, home decor and lifestyle goods featuring designs by independent artists. With artwork from over 400,000 creators and the knowledge that every purchase pays an artist, Society6 allows you to empower creativity around the world and in your everyday life.
Society6 presents a special exhibit featuring work by a few of their favorite new artists and photographers who have captured their attention. Get inspired by their work—we sure are!
Museum of Crypto Art
The Museum of Crypto Art (MoC∆) brings its Community Collection to this Virtual Edition. A decentralized collection of ~6000 NFTs that individuals across the world contribute to @moca via activation functionality on their web3 application.
This collection rejects outside determinations of crypto art, and cements an infrastructure for sub-cultures within. MoC∆ is an immersive VR museum of NFTs in Sominim Space. It is considered the premier destination for digital art and innovative ideas, pushing the limits of frontier technology and our collective imaginations.
House of Voltaire
We are excited to present a brand new Fair Partner collaboration with Studio Voltaire, one of the UK's leading not–for–profit arts organizations.
Studio Voltaire is supported by House of Voltaire which commissions and sells unique artworks, limited edition prints and specially–commissioned products by global contemporary artists and designers House of Voltaire has curated a special collection of some of these works are on sale at the Virtual Edition including collaborations with KAWS, Jonas Wood, Magda Archer and Alice Hawkins
New Futures
As part of The Other Art Fair's continued mission to break down traditional barriers of the contemporary art world, New Futures is designed to launch the careers of talented emerging artists through prizing that includes free exhibition space and mentorship. The programme also allows budding collectors and those interested in art to keep a finger on the pulse of emerging talent.
All current 2022 New Futures winners will be exhibiting at the Virtual Edition.
The Screening Booth
Stuck for time? Watch our 5-minute room previews for a quick overview of each room. Plus, enjoy tours led by Saatchi Art curators. They'll be ready for you when the fair goes live!
The Listening Booth
Hosted and produced by Sophie Loxton Lucas, The Visible Artist podcast features talented artists and their paths to success within the creative world. Alongside conversations with an array of creators, Sophie chats to leading art world individuals who share their insights into working with artists. The Visible Artist is a must-listen for any artist looking to make their mark in today's contemporary art world.
The Other ARt Fair On Demand
Take part in a variety of creative workshops, watch artist interviews, browse our virtual Fairs, and more on The Other Art Fair YouTube channel.
Sign up for Virtual Editions newsletter
Sign up and be the first to know all the latest Fair and artist news, Online Studio collections, exclusive special offers and more.