VENUE & GETTING HERE
4325 N Ravenswood Ave, Chicago, IL 60613
Navigate with Google Maps app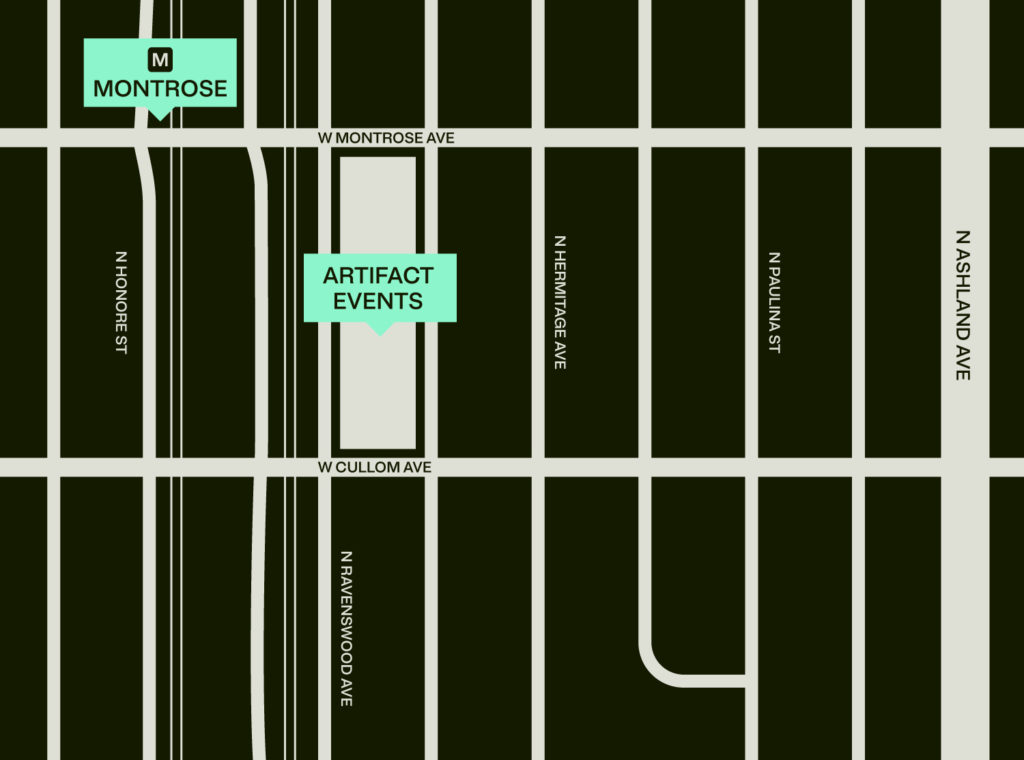 ---
FAIR HOURS
OPENING NIGHT
Thursday, April 27: 6 – 10 pm
GENERAL ENTRY
Friday, April 28: 4 – 10 pm
Saturday, April 29: 11 am – 7 pm
Sunday, April 30: 11 am – 5 pm
TICKET INFORMATION + PRICING
OPENING NIGHT (Thursday)
First look during Opening Night
Re-entry Friday – Sunday (re-entry tickets issued at Welcome Desk)
Option to book guided tour with a Saatchi Art curator (limited availability)
$40 – ADVANCED
ends April 26 at 11:59 pm CST
$45 – ON-SITE
Book online in advance for savings and easy check-in. On-site pricing goes into effect on event day and tickets will be available for purchase both online and on-site at our Welcome Desk, pending availability.
GENERAL ADMISSION (FRI- SUN)
Entry to the Fair
Option to book guided tour with a Saatchi Art curator (limited availability)
$10 – EARLY BIRD
ends March 29 at 11:59 pm CST
$15 – ADVANCED
ends April 26 at 11:59 pm CST
$20 – ON-SITE
WHEN YOU ARRIVE (WE CAN'T WAIT EITHER!)
All visitors must have a ticket to enter. You can purchase a ticket through Eventbrite on our tickets page.
Head over to our Welcome Desk to check in. Please have ready:
your QR code on your ticket
your government ID
Visitors 21+ will be wrist-banded during check-in for quick service at the bar. Government-issued I.D. is required.
RE-ENTRY
If you wish to return on another day of the Fair, please visit the Welcome Desk to request your complimentary will-call ticket before you leave. Re-entry is subject to availability.
FAQS & MORE
Have a question we didn't cover here? Check out our FAQ page.