Founded by AHRC NYC, ArTech Collective provides opportunities for artists with intellectual and developmental disabilities to develop and express themselves through inclusive, innovative and accessible approaches to traditional and new media.
This November 4 – 7, 2021, ArTech return to The Other Art Fair Brooklyn to showcase a selection of work by their talented artists. Book tickets to the Fair to browse their collection and shop works by the ArTech artists.
Featured artists: Bin Feng, David Frances, Djsaniuka "DJ" Pierre, Nathan Rubinstein, Cory Tyler, and William Caballero.
MEET THE ARTECH ARTISTS
Bin Feng
Bin Feng paints watercolor images and landscapes derived from his Chinese-American culture. Before he begins a new painting, Bin envisions what he would like to create. He gathers the best materials for his project and begins his work, with poetic use of soft colors and imagery that celebrates his Chinese heritage. Bin stops working only when the painting looks like what he imagined in his head. Having dedicated his life to art, Bin spends each day practicing his craft.
Djsaniuka "DJ" Pierre
An accomplished artist, Djsaniuka "DJ" Pierre exhibits a joyful and witty style through several mediums ranging from digital sketches to large acrylic paintings or wall murals. DJ's extensive body of work includes an eclectic range of imagery, inspired by many sources, from fashion magazines to art exhibits that she has visited. Her creative talents are both visual and musical, extending to the piano, which she plays with excitement and joy
Nathan Rubinstein
Nathan Rubinstein tells the stories of characters created in his imagination and of famous people who appear across the media landscape. He captures the personal characteristics he notices when he views his subjects, often with sketches that often distort the human figure. Often adding small notations next to drawings of his caricatures, Nathan makes humorous and sometimes scathing commentaries of the people who he decides to draw.
Cory Tyler
My name is Cory Tyler. I am from Bronx, NY. My favorite things to draw are nature, landscapes, sea creatures, land animals, birds, plants, clouds, sun, moon, stars, different houses, cars, trains, boats, airplanes, bridges, people, and waterfalls. Why? So beautiful to see. Lots of inspiration, so much to take in. We can learn a lot from history, museums, libraries, maps, inventions, and our Creator. My favorite mediums are colored pencils, micron and gel pens, paint markers, watercolor pencils, sharpies, dual pens, and clay.
William Caballero
William Caballero was born in New York and has traveled many times with his parents to their native Puerto Rico. Working from his memories of these trips, William creates lush, vibrantly colorful Caribbean landscapes and pueblos, and now has 15 completed works in his portfolio. These mixed media works reflect a keen understanding of spatial relationships and attention to foreground and background elements found in classic landscape painting.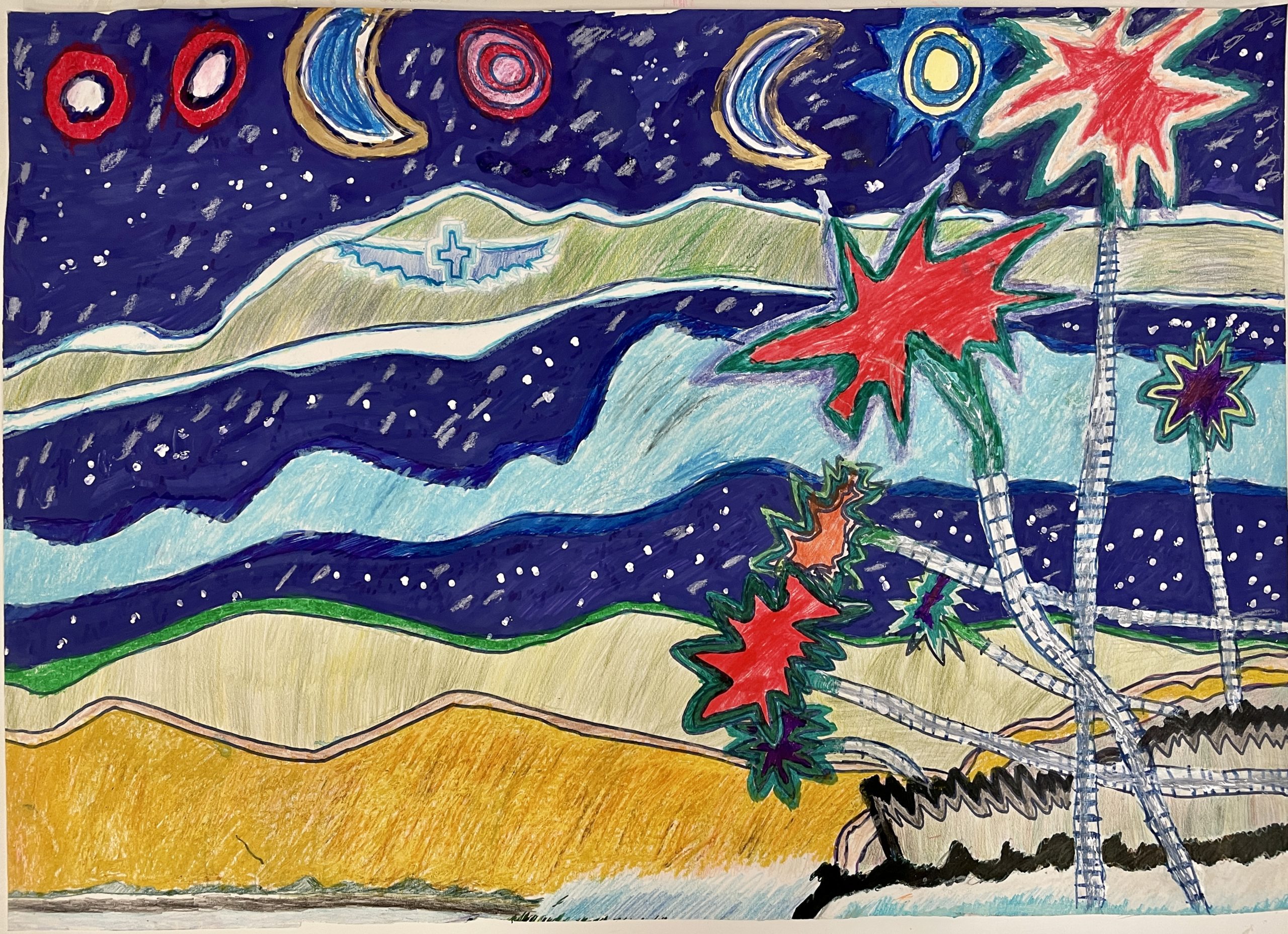 Book tickets to The Other Art Fair Brooklyn this November to browse the ArTech Collective showcase.
VISITING INFORMATION
VENUE INFORMATION, OPENING TIMES, AND GETTING HERE
FAIR PROGRAM
CHECK OUT WHAT'S ON AT THE OTHER ART FAIR THIS NOVEMBER