PLAN YOUR DAY
AT THE OTHER ART FAIR BROOKLYN
Here you'll find all the information you need to help plan your day (or days!) at The Other Art Fair. We're known for our immersive art experience, and we can't wait for you to experience just that — from interactive sculpture displays, murals, installations, live DJ sets, refreshing cocktails from BOMBAY SAPPHIRE®, and food vendors, there's something for everyone and more!
FAIR MAP
Navigate your way through the Fair with our map. Click on the image below to enlarge.
Can't find what you're looking for? Come and ask us at the Front Desk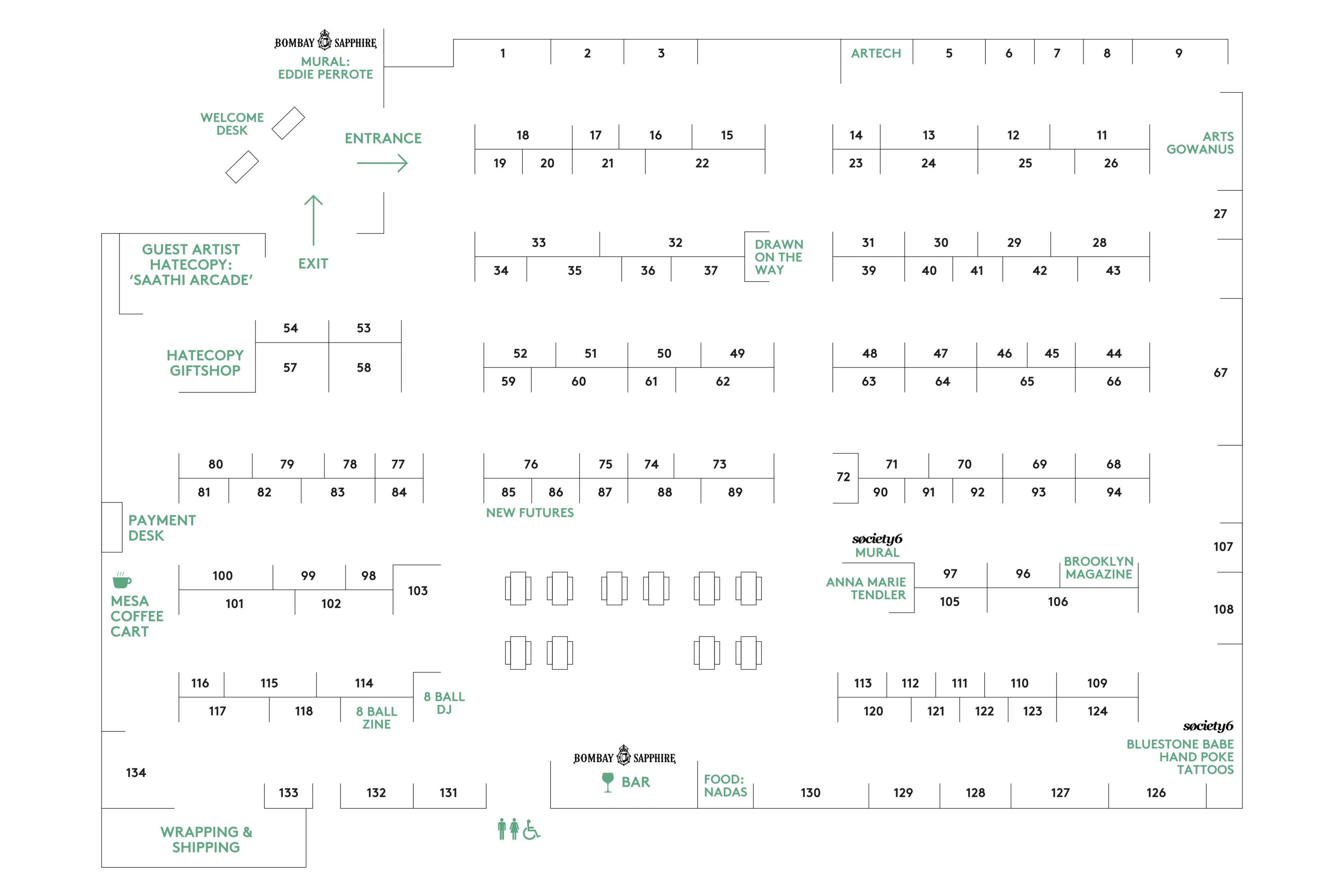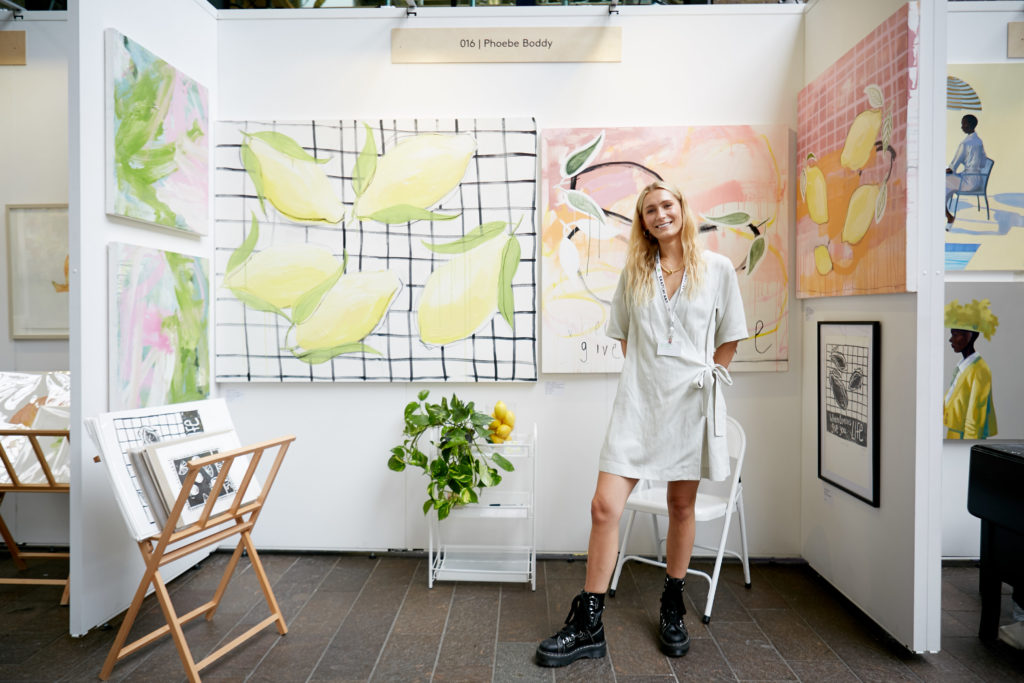 SHOP ART BY EMERGING ARTISTS
Browse original and limited edition artworks by 130 independent artists, each hand picked to exhibit at The Other Art Fair by a selection committee of art world experts. Discover artworks starting from $100 and in a variety of different mediums – there will be something for every budget and taste!

Plus with free wrapping at the Fair, you can walk away with your new favourite artwork on the very same day.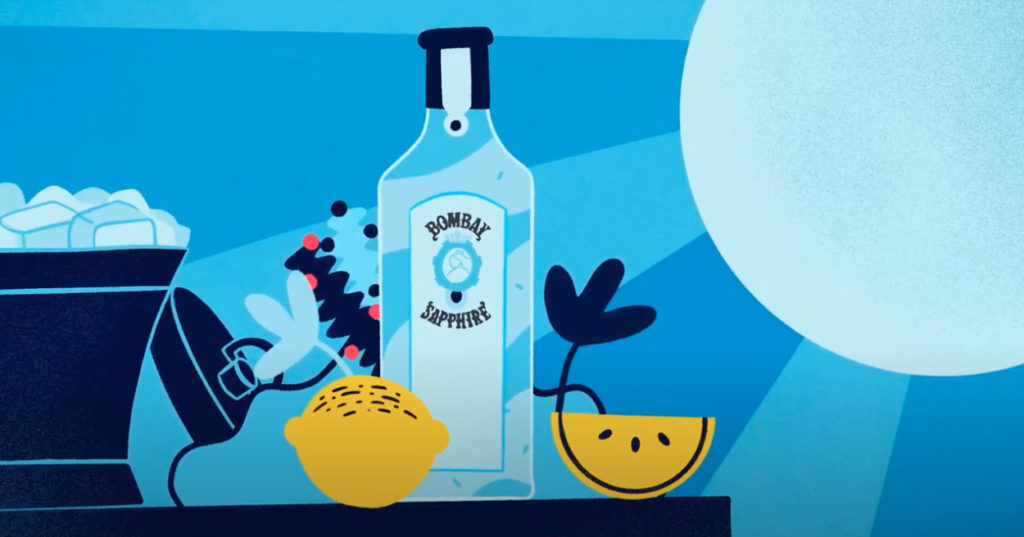 CUSTOM BOMBAY & TONIC COCKTAILS
Every drop of BOMBAY SAPPHIRE® gin provides the perfect creative canvas for experimentation. Visitors can enjoy delicious cocktails compliments of BOMBAY SAPPHIRE—choose from three custom cocktail recipes, each a unique twist of the quintessentially classic Gin & Tonic.
---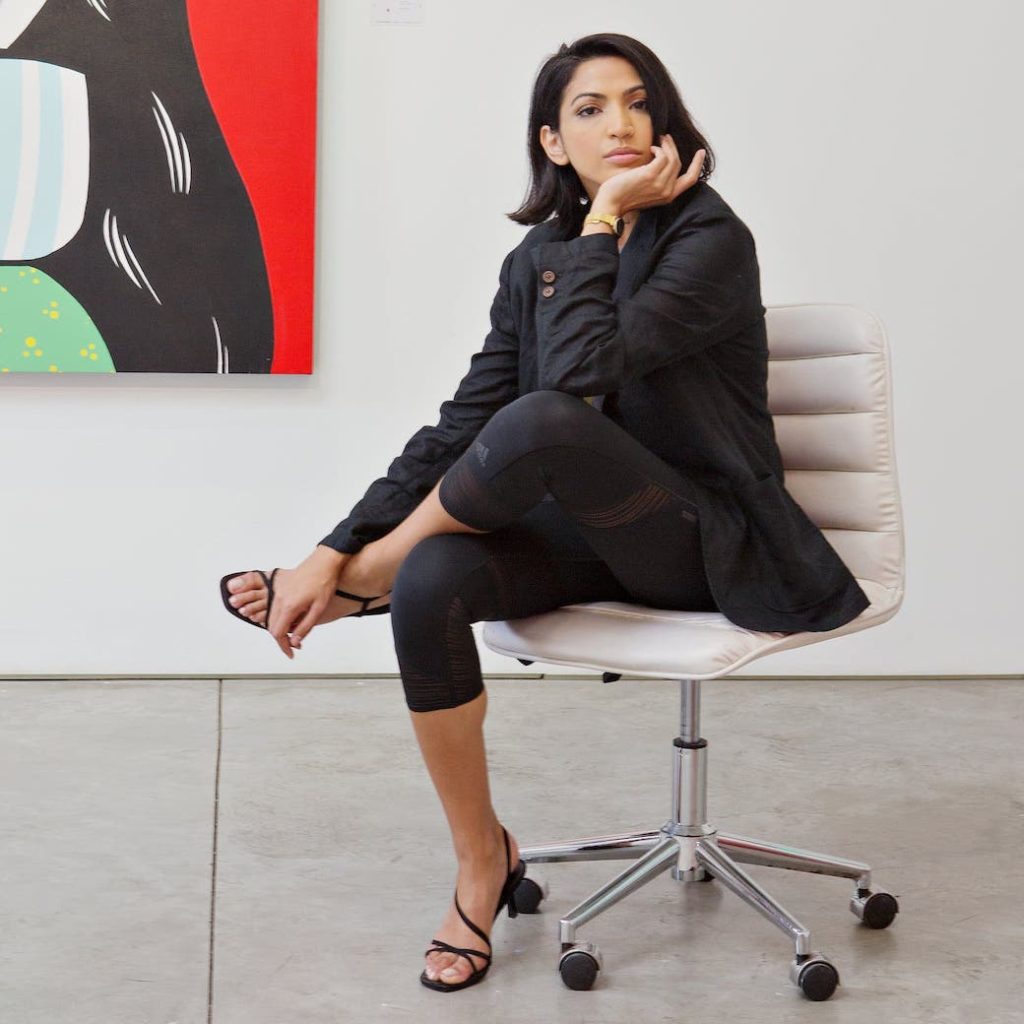 GUEST ARTIST: HATECOPY
PRESENTING "THE SAATHI ARCADE"
From themes of pre-pandemic nostalgia and spaces that once brought us joy and closeness, emerges Hatecopy's Saathi Arcade; a fully interactive experience fusing South Asian pop art, 80's arcades, underground carrom clubs, digital media and more. Premiering exclusively at The Other Art Fair Brooklyn.
Maria Qamar's immersive experience has been loaded with fully customized, limited edition arcade tech, dazzling neons and original painted work.
Visitors can step into the indigo-hued dreamspace and explore unexpected surprises throughout the exhibit. The official Saathi Arcade gift shop can be found in the center, featuring exclusive Hatecopy merchandise and three limited edition print, produced specially for this exhibition.
Inspired by the Saathi Arcade and created specially for The Other Art Fair, 'Chokrichange', 'Chill Yaar Color', and 'No Crying In Carrom' come in an edition of 40 and sold only at the Fair on a first come, first serve basis. Prints cost $60 and 50% of the sales will directly benefit Children of Promise NYC.
Image credit: Mary Kang + Eddie O'Keefe
---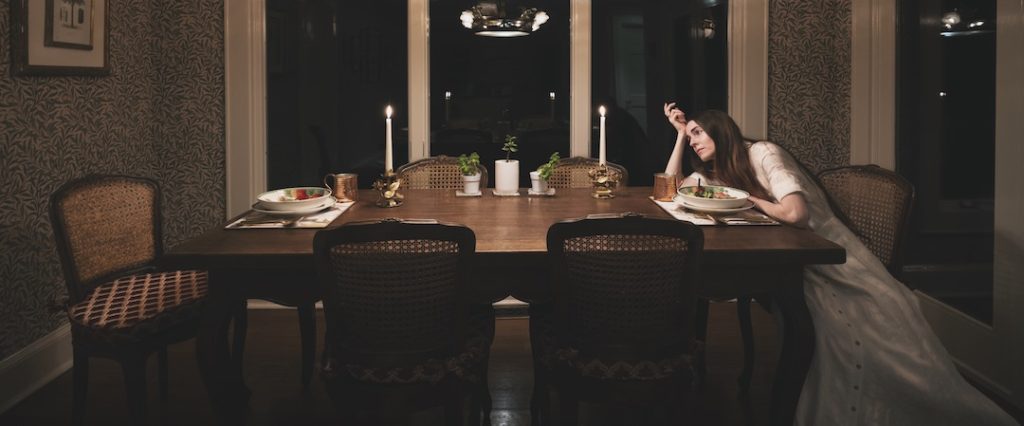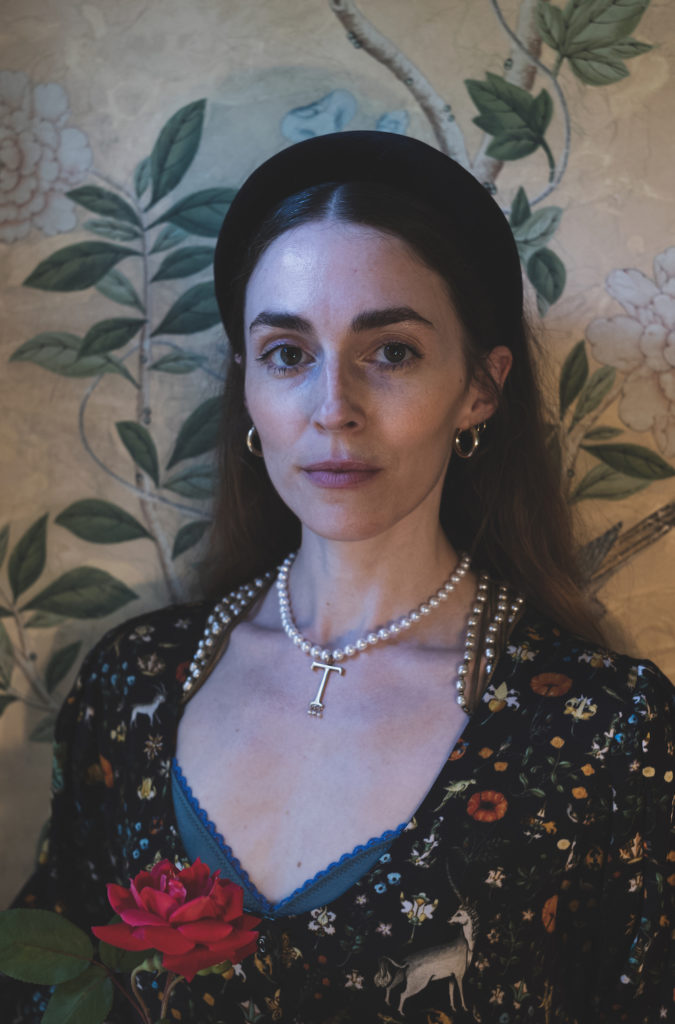 FEATURE ARTIST: ANNA MARIE TENDLER
Following her success at the Los Angeles edition of The Other Art Fair, Anna showcases her latest photography series entitled "Rooms in the First House," offering framed master works, editioned fine art prints, as well as small posters.
Anna Marie Tendler is a multidisciplinary artist working in photography, textiles, drawing, painting and interior design. She holds an M.A. in fashion and textile history from NYU's Costume Studies program. Her master's thesis, titled The Lip Filler Phenomenon: Modern Medicine, Kylie Jenner, and Postfeminist Female Sexuality, charts the contemporary history of dermal lip filler, as well as the correlation between plastic surgery and sociocultural politics of female aesthetics. Much like her academic research, Anna's artistic work explores the many facets and complexities of the female identity. She works out of her home in Connecticut, whose design was her largest artistic endeavor to date, and which provides the mise en scène for most of her photographs.
---
AN EXPERIENCE UNLIKE ANY OTHER
Immerse yourself in these interactive art experiences and unique installations at The Other Art Fair Brooklyn.
Hand Poke Tattoos By
Bluestone Babe
Back by popular demand, Brooklyn's favorite Rosa 'Bluestone Babe' Perr returns to The Other Art Fair to hand poke tattoo her much loved, beautiful designs onto our visitors.
No advanced booking available. Tattoos to be given on a first come, first serve basis. Visitors must have a Fair ticket in order to be tattooed in the Fair.
Bluestone Babe's flash sheet and price list to be announced soon!
Drawn On The Way
You Are A Work Of Art
The Drawn On The Way project is a celebration of the people and moments we often overlook in the rush of our day-to-day lives. To demonstrate the power of art to create connection and transform the way we see ourselves and the world, live-illustrator Sarah Nisbett, will create candid on-the-spot illustrations of visitors to The Other Art Fair. As visitors become spontaneous works of art, their portraits will create a living art gallery that grows and changes as the fair goes on — illustrating the notion that each one of us is work of art and worthy of being seen.
Visit drawnontheway.com or look for @drawnontheway on Instagram, Facebook and TikTok
Curator Tours By
Saatchi Art
Book your free 30-minute tour, led by Saatchi Art curator India Balyejusa.
Thursday, November 4:
7pm-7.30pm
'Ones To Watch'
Friday, November 5:
7pm-7.30pm
'Focus on Photography'
Saturday, November 6:
2pm-2.30pm
'Focus on Prints'
Sunday, November 7:
2pm-2.30pm
'Focus on Originals'
Simply head to our ticket page and book your free tour ticket in the 'Add-Ons' section. Tour ticket is only valid with a Fair entrance ticket.
Music & DJs Presented By
8 BALL RADIO
8 Ball Community is a volunteer-run not-for-profit collective that produces art, publishes media and creates opportunities to share cultural programming. Their mission is to generate collaborative and educational exchange through public access television and radio stations, an imprint, a self-publishing fair, a public library, an internship program, a residency and series of workshops in art-related trades. 
For this November Fair edition, 8Ball are thrilled to provide music from a collection of radio DJs and selectors, as well as printed material and merchandise from members of their community. Listen to archives of all of their radio programing or explore their library.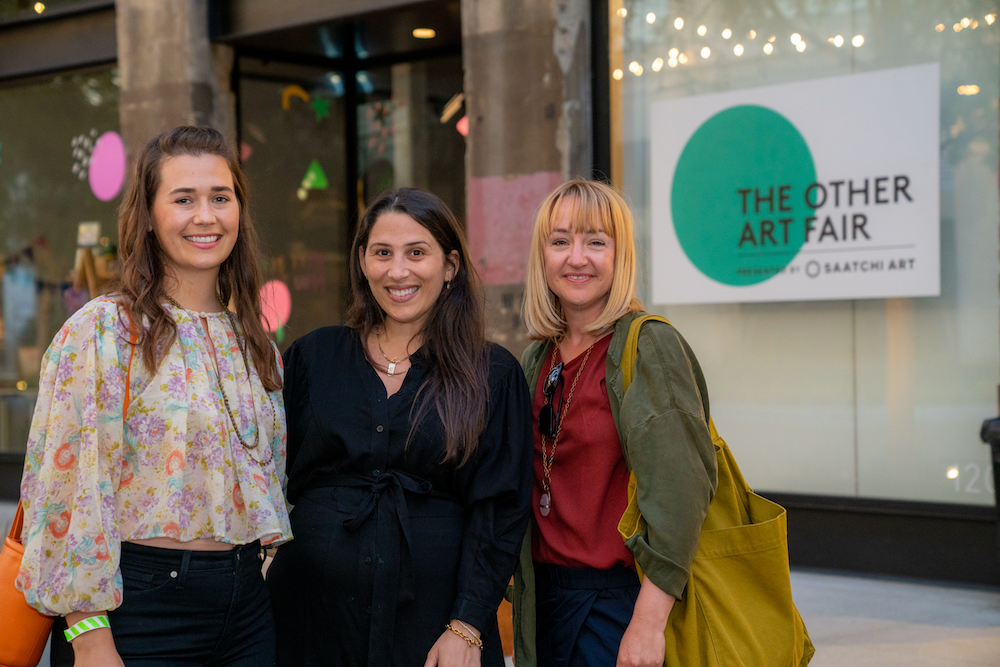 Join in on the fun at Greenpoint's Brooklyn Expo Center
Tickets are live soon for The Other Art Fair Brooklyn – Keep Watch!
Tickets Live Soon
CURATED EXHIBITIONS
Alongside the 130 independent artists exhibiting at The Other Art Fair, we've teamed up with a variety of Arts partners, non-profits, and organisations, each presenting their very own curated pop-up exhibition within the Fair.
Gowanus – In Perspective/In the Abstract
The art scene in Gowanus is exciting in many ways: the neighborhood has a vibrant creative community with a diverse range of creators. These Brooklyn artists create incredible work through various styles and mediums that explore a myriad themes and perspectives. Arts Gowanus has curated a small sampling of the amazing work made in Gowanus and divided artists into two categories; those who work figuratively and those who work abstractly.
Arts Gowanus is a not-for-profit organization working to support, promote, and advocate for local artists and a sustainable arts community in Brooklyn. We nurture relationships among individual artists, arts organizations, local businesses, and the community. We believe that the diverse creativity of local artists contributes to the singularly vibrant cultural life and energy of New York City, and that it is critical that the arts continue to thrive in Brooklyn. We produce open studio events, professional development workshops, public art works, artistic collaborations and exhibitions in our mission to ensure artists remain a crucial part of neighborhood identity.
ArTech Collective
Founded by AHRC NYC, ArTech Collective provides opportunities for artists with intellectual and developmental disabilities to develop and express themselves through inclusive, innovative and accessible approaches to traditional and new media.
New Futures Brooklyn 2021
Meet the Brooklyn recipients of The Other Art Fair New Futures: Class of 2021 at this Fall edition Fair.
As part of the Fair's continued mission to break down traditional barriers of the contemporary art world, New Futures is designed to launch the careers of talented emerging artists through prizing that includes free exhibition space and mentorship
FUEL UP & INDULGE
Head to our Bar & Food area to enjoy refreshing BOMBAY SAPPHIRE cocktails and delicious food options!
BOMBAY SAPPHIRE Cocktails
Enjoy 2 free BOMBAY SAPPHIRE cocktails with your ticket to The Other Art Fair. Pick up your drinks tokens at the Front Desk when checking in and head to the central bar to grab your delicious drinks.
Must be over 21 years old to redeem the offer. Please have valid proof of identification ready when checking in at the Front Desk. 
Fair Bar
Purchase beer, wine, and soft drinks at the central BOMBAY SAPPHIRE bar. Plus coffee from our friends at Mesa Coffee on Friday and Saturday.
Nadas NYC
Delicious and freshly made empanadas by the experts at Nadas NYC all weekend long.
Nadas mission is to bring original and unique Colombian flavors using only the freshest ingredients and recipes, that have been passed along for generations, with some colorful and refreshing twists.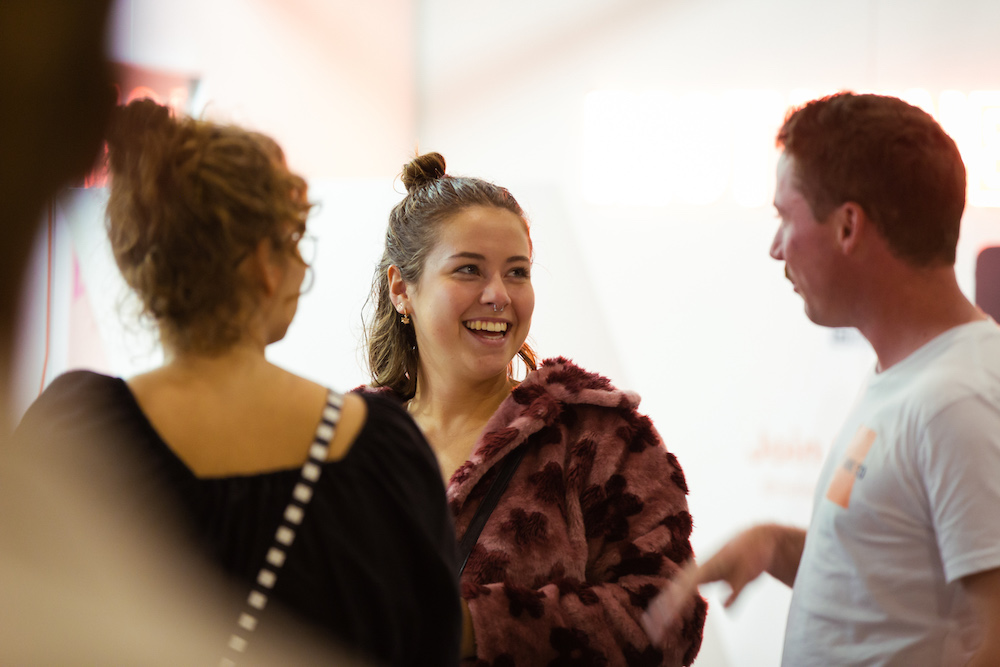 DON'T MISS OUT
Tickets for The Other Art Fair Brooklyn at Greenpoint's Brooklyn Expo Center will be live soon. Keep watch!
TICKETS LIVE SOON