PLAN YOUR DAY
AT THE OTHER ART FAIR BROOKLYN
Here you'll find the Fair map and artist list, plus where to view and shop awe-inspiring art installations and learn about visitor offers from
partner Greenpoint shops, and more!
FAIR MAP
Navigate your way through the Fair with our map. Click on the image below to enlarge.
Can't find what you're looking for? Come and ask us at the Front Desk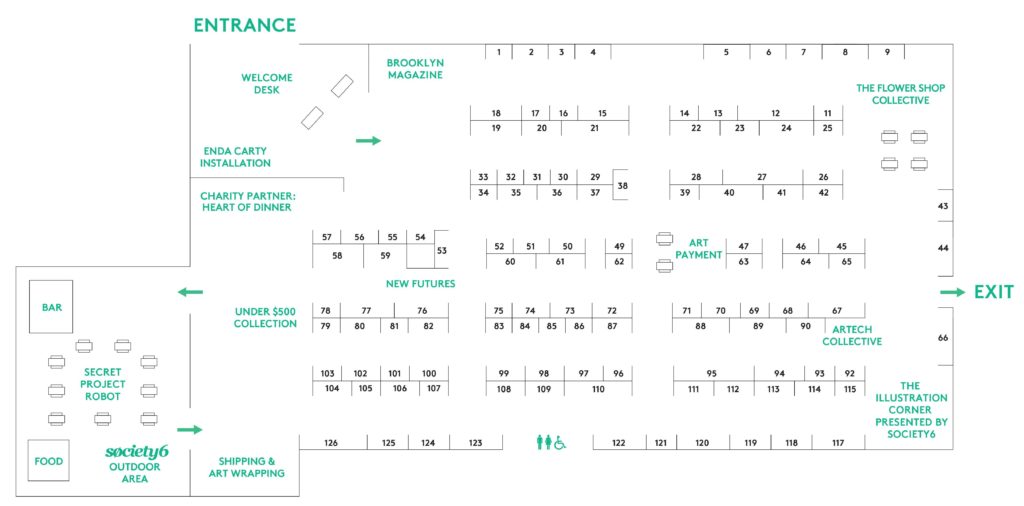 FAIR FEATURES
Charity Partner: Heart of Dinner
Sponsor and decorate Heart of Dinner's delicious care packages, each hand delivered to elderly New York East Asians in need of help. Each package costs $25 to sponsor and 100% of the proceeds go towards filling the bundle with hot and nutritious meals.
The Fair's Charity Partner, Heart of Dinner, exists to combat food insecurity and isolation within NYC's elderly East Asian American community. They do this by delivering care packages of hot lunches and fresh produce every Wednesday, lovingly paired with a handwritten and illustrated letter in their native language to bring warmth and comfort.
EXCLUSIVE CHARITY PRINT: Erin Jang x Heart of Dinner
Purchase this signed, limited edition print by illustrator Erin Jang from The Indigo Bunting, created exclusively for this edition of The Other Art Fair. 100% of the print sales will benefit Heart of Dinner.
Limited edition of 120
11″ x 18″
$30 each
Erin Jang is a graphic designer and illustrator in New York City. In her studio, The Indigo Bunting, she works on a wide range of creative projects, with clients including The New York Times, Apple, Google, Bon Appétit and Chronicle Books. She was the founding design director for Color Factory and her work has been recognized by American Illustration and AIGA. She is the author of You, Me, We! a creative workbook for parent and child, and the craft book, Make & Give.
Printed by Fair friend's Lucky Risograph
The Illustration Corner Presented by Society6
Society6 present four of New York's most exciting illustrators, who will be taking over a corner of the Fair on Thursday, Friday, Saturday and Sunday. Collect your free 60 second bespoke illustration from the Illustration Corner, while stocks last.
The Artist Line Up:
Thursday, July 22: Amber Vittoria
Friday, July 23: Lo Harris
Saturday, July 24: Niege Borges
Sunday, July 25: Gabriella Cetrulo
Saatchi Art Curator Tour
Join this free 30-minute 'Invest in Art' tour led by Saatchi Art curator Erin Remington, presenting highlight artworks at The Other Art Fair Brooklyn. Sign up here.
Flower Shop Collective
The artists from Brooklyn's Flower Shop Collective decorate their project space with artwork, that brings their manifesto to life.
Flower Shop Collective (FSC) is a Brooklyn based art + fabrication studio that cultivates the ideas of emerging artists working towards more equitable futures. They offer sliding scale studio access and other artist tailored services with a focus on Black, brown, Indigenous, minority ethnic, and immigrant artists. They remain in service to artists of color, and we remain determined to cultivate stories of diaspora and home, wherever home may be. Follow the Flower Shop Collective story on Instagram.
New Futures Brooklyn: Class of 2021
Meet the Brooklyn recipients of New Futures Class of 2021 at this summer edition of The Other Art Fair: Caroline Boreri, Watston Mere and Wenlu Bao.
As part of the Fair's continued mission to break down traditional barriers of the contemporary art world, New Futures is designed to launch the careers of talented emerging artists through prizing that includes free exhibition space and mentorship
Artwork: '63 Spring St Collage', Caroline Boreri
Between Here and There is Everywhere
Secret Project Robot
 present Between Here and There is Everywhere, an art installation using pyramids and light to scan the cosmos for a collective memory of hope and a brighter future.
According to ancient legend the great pyramids of the Giza Plateau were in perfect alignment with the three stars in the constellation of Orion, Orion representing the resting place of the soul of Osiris, the god of life.  The pyramids were in this conception, a cosmic vehicle used to send the Pharoa's home… For this installation artists Rachel Nelson and Erik Zajaceskowski will look backward, upward and inward to construct a pyramid connected by colorful geometric shapes creating a stained glass effect that will capture sun light, moon light and star light, in hope that we too may find a vision of the future that brings us light and takes us home.
Enda Carty: Dream City
Artist Enda Carty transforms the Fair's entrance into a colorful playground with his Dream City sculptural pieces, resonating with your inner child and connecting people to the innate gift of creativity.
ArTech Collective
Visit the ArTech Collective pop-up exhibition featuring the works of five abstract artists and members of the Collective who explore different techniques in art to communicate their perceptions of the world.
ArTech Collective are an organization and community arts center that provides opportunities for artists to develop and express themselves through inclusive, innovative and accessible approaches to traditional and new media. Based in the Bronx, the studio is an extension of AHRC NYC's mission to find ways for children and adults with intellectual and other developmental disabilities to live their lives to their fullest potential.
FOOD & DRINK: Outdoor Bar
Sit back in our outdoor seating area overlooking the Manhattan skyline, with a refreshing drink from our fully stocked outdoor bar.
FOOD & DRINK: Van Leeuwen Ice Cream
Beat the heat with Van Leeuwen's magical dairy and vegan ice creams. Find their trademark yellow ice cream truck in the outdoor bar area on the Thursday Private View evening.
FOOD & DRINK: Neapolitan Pizza
Feeling hungry? Neapolitan Express have you covered with their eco-friendly food truck, serving delicious, fresh Neapolitan pizzas all weekend long in the outdoor bar area.
DJ Sets By Secret Project Robot
VISITOR OFFERS
Enjoy these exclusive offers for The Other Art Fair ticket holders from our Fair partners.
SUMMER IN GREENPOINT
Make a day of The Other Art Fair Brooklyn and check out this local hotspots and Fair friends.
THE HOXTON WILLIAMSBURG
Head to The Hoxton, Williamsburg for everything you need for a summer weekend in Brooklyn. Whether you want classic local grub, a laid-back brunch with friends, or a spritz on the roof, they've got you covered with their lobby coffee shop, Klein's restaurant serving evening sips and weekend brunch, and a great outdoor courtyard. 
Plus don't miss artworks from The Other Art Fair decorating the Hoxton Williamsburg lobby area.
GREENPOINT TERMINAL MARKET
Greenpoint Terminal Market is just down the street from the Fair and is a one-of-a-kind marketplace featuring creatives, food vendors & local shops. Open every Saturday & Sunday from 10am – 6pm, right on the East River at 2 Noble Street, they offer a safe and COVID-mindful outdoor environment.
Greenpoint Terminal Market launched last year in the midst of a pandemic to support local businesses in Brooklyn. Their goal is to create a space for the community to gather, eat and shop, get together and have fun.
Follow @greenpointterminalmarket on Instagram.
TULA HOUSE
Just a stone's throw from the Fair, find your new green best friend at Greenpoint's favorite Tula House.
At Tula, discovery and sharing our love for the natural world is what has always driven and inspired us.
Their temporary hours are Tuesday-Sunday 11am-6pm in the heart of Greenpoint, Brooklyn.
VISITING INFORMATION
VENUE INFORMATION, OPENING TIMES, AND GETTING HERE
OUR SAFER FAIR PLAN
READ MORE ON OUR SAFER FAIR PLAN