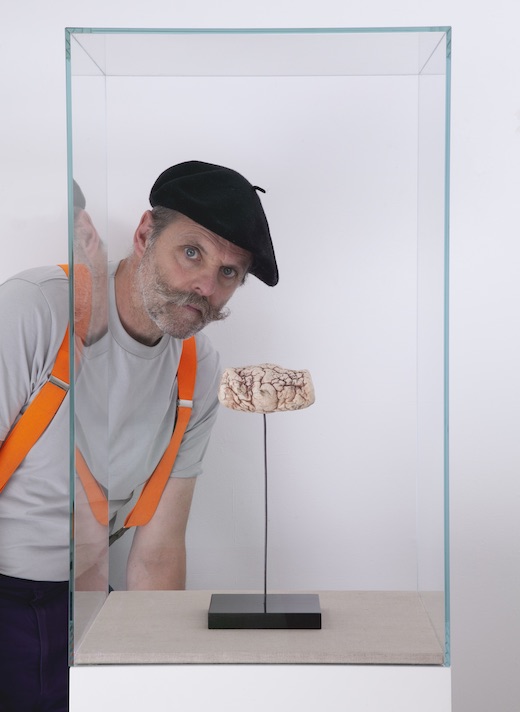 Re-Imagining The Human Brain Through Art
We have teamed up with Parkinson's UK, and curator Ben Moore, to bring you an extra special exhibition highlighting the fastest growing neurological condition in the world.
Me, My Brain, and I will spread this message through the medium of art, bringing together internationally renowned artists including Tracey Emin, Gavin Turk (featured left), Jake and Dinos Chapman, Conrad Shawcross, Rob and Nick Carter, David Bailey, Mr Brainwash, D*face, Alex Echo, Hayden Kays, Schoony, Abigail Falls, Dion Kitson, and Bran Symondson.
Each artist will bring their personal style to the decoration of a brain, creating an unusual yet beautiful artwork in aid of an important cause. Limited edition signed prints of selected works will also be available for purchase at the fair, several of which will be displayed at key London Underground stations including Regent's Park and Bethnal Green.
Paul Jackson-Clark, Parkinson's UK Director of Engagement comments: "Me, My Brain and I invites us all to consider our own brain, to visualise it as the source of all the things that make us "us". Our brains curate our lives, on the one hand acting as unique libraries, holding memories, experiences, and skills, whilst on the other powering supercomputer-powered curiosity, creativity, and innovation. Each brain represents a unique someone, a life lived and the essence of being human.
"We are delighted to be partnering with Ben Moore, and Saatchi Art's The Other Art Fair, in what we all believe will be a beautiful, thought provoking, and moving creative experience. We are indebted to the incredibly generous artists who are making this possible with a single shared aim – to raise funds for Parkinson's research and to find a cure".
Tracey Emin x Me, My Brain, and I
Tracey Emin will be joining this stellar selection of artists, with her own re-creation of the human brain.
"Quietly sitting here painting a brain.. it's sort of naive of me but I never realised how actually sexy a brain is.. intuitively I've always known it.. because the people I find the most sexually stimulating make me laugh..They catch me …" Tracey Emin

Photo by Katie Heppell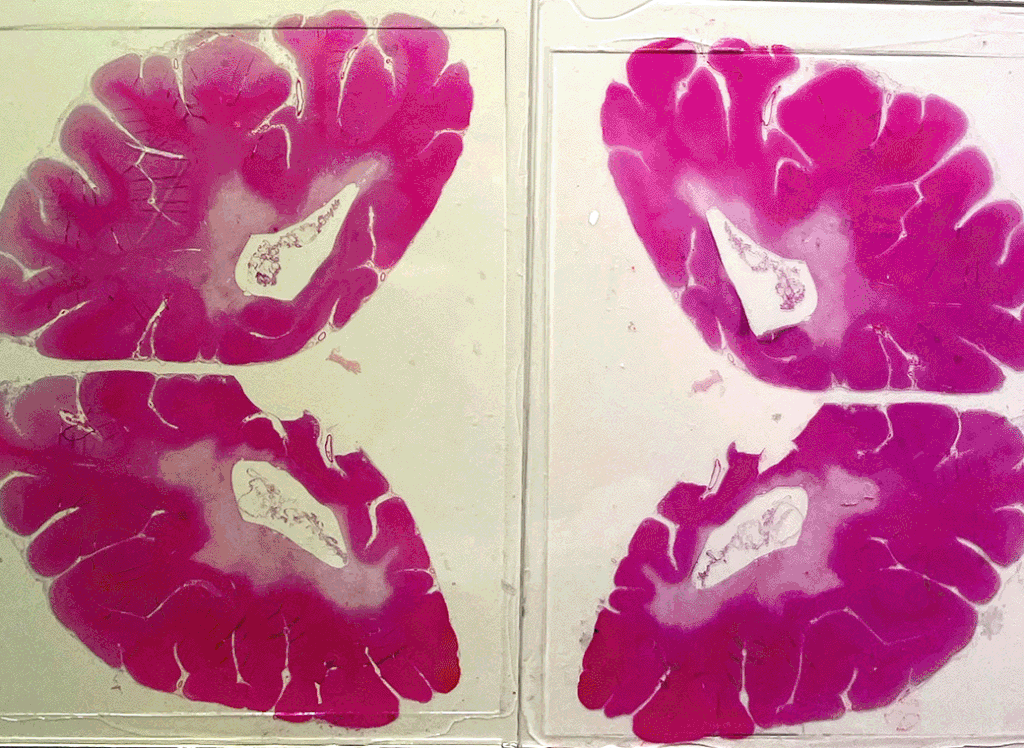 The artists visited Parkinson's UK brain bank
The Fastest Growing Neurological Condition in The World
Parkinson's is the fastest growing neurological condition in the world and an estimated 10 million people globally have been diagnosed with the condition. Approximately 145,000 of them live in the UK. Sadly, there is currently no cure and continued research into its causes and treatments is essential. Parkinson's UK, Europe's largest charitable funder of Parkinson's research, aims to increase understanding of how Parkinson's develops, uncover the best possible treatments and ultimately, find a cure.
This exhibition illuminates that our brains are unique, deeply complex, and beautiful things, containing over one hundred billion neurons and enabling every facet of our daily functioning. Parkinson's manifests in the brain, impacting each individual differently – it can cause tremors, rigidity, slowness of movement, problems with sleep and memory, hallucinations, compulsive behavior and chronic pain among other serious symptoms. The medications presently available to those living with the condition often cause side effects which can worsen patients' quality of life. Parkinson's UK is working tirelessly to address this by delivering one new treatment by the end of 2024 and a cure in years not decades.
Living with Parkinson's
International artist Alex Echo was diagnosed with Parkinson's two years ago, he hopes that his sculpture "Tremor" will present a truthful visual narrative of living with this disease. He comments, "as your body and motor skills break down and fail with Parkinson's, every moment becomes an existential experience".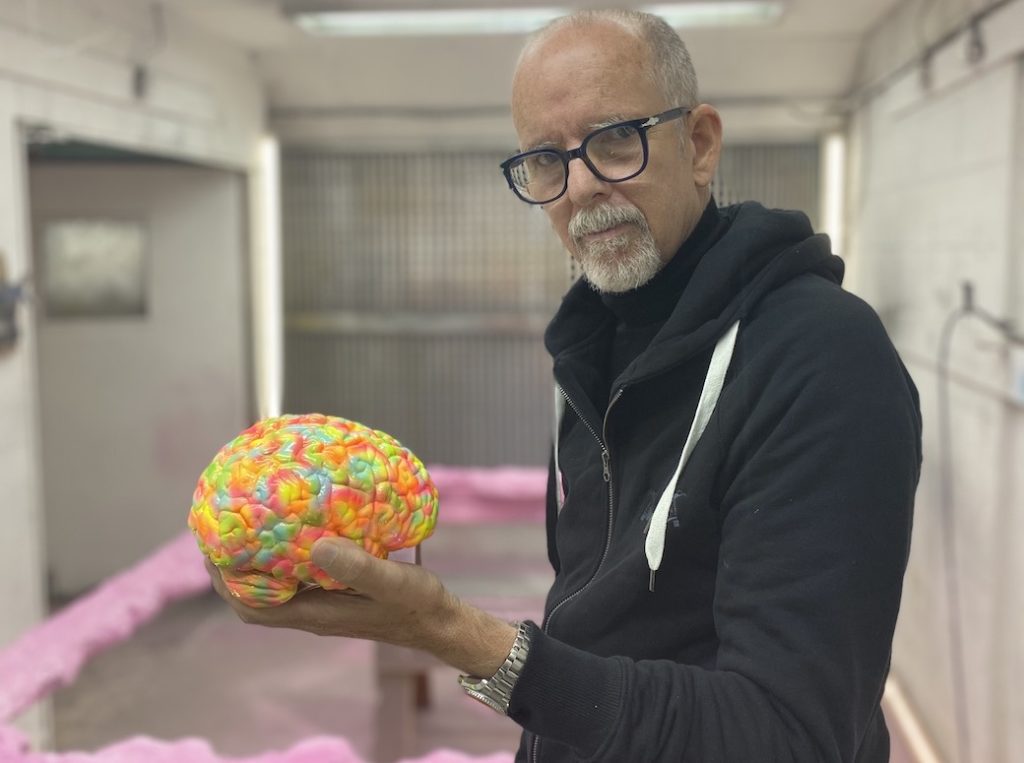 ABOUT PARKINSON'S UK
Your mum, son or friend. Anyone can get Parkinson's, young or old. Every hour, two more people are diagnosed.
Parkinson's is what happens when the brain cells that make dopamine start to die. There are over 40 symptoms, from tremor and pain to anxiety. Some are treatable, but the drugs can have serious side effects. It gets worse over time and there's no cure. Yet.
But we know we're close to major breakthroughs. By funding the right research into the most promising treatments, we get closer to a cure every day.
Until then, we're here for everyone affected by Parkinson's. Fighting for fair treatment and better services. Making everyone see its real impact.
People with Parkinson's, scientists and supporters, fundraisers and families, carers and clinicians, all working side by side. Impatient for change, we're taking a stand, speaking out, chipping in, and playing our part.
We are Parkinson's UK. Powered by people. Funded by you. Together we'll find a cure.
ABOUT BEN MOORE
Ben Moore is a British artist and curator and the founder of Art Below (www.artbelow.org.uk) a contemporary art organisation that uses billboard space to showcase art. He has shown the works of thousands of established and emerging artists, primarily in the London Underground, and internationally. Moore has curated exhibitions at galleries and museums including London's V&A, the Saatchi Gallery, Somerset House, and The Pacific Design Centre in Los Angeles. His most recent exhibition was "Art in the Age of Now" at Fulham Town Hall, one of Forbes' "7 Unmissable London exhibitions" of Summer 2021. Moore has previously collaborated with numerous charities and causes including Missing People, MAG (Mines Advisory Group), Peace One Day, MacMillan Cancer Support, and The Royal British Legion.