Experience Art Differently
Presented by Saatchi Art, The Other Art Fair is the leading artist Fair to discover and buy art directly from the very best emerging artistic talent. Founded in London, UK in 2011, the Fairs are now strongly established across North America, the UK, and Australia, with annual and biannual editions across the globe in Brooklyn, Chicago, Dallas, Los Angeles, London, Melbourne, Sydney, and Toronto – and plenty more to come!
From the heart of Greenpoint, at the Brooklyn Expo Center, the Spring and Fall Brooklyn Fairs give art lovers the opportunity to meet a curated selection of 130 independent artists and browse thousands of pieces to suit every budget under one roof. With prices starting from as little as $100, this is an art fair for everyone. Whether you're a first-time art buyer, seasoned collector, curator, investor, gallery owner, art lover or anything in between, you are guaranteed to find something to add to (or start!) your collection.
Plus, with performances, DJ sets, immersive art installations and a fully-stocked bar awaiting you, The Other Art Fair is more than your usual art fair experience and has everything you need to enjoy a cultural, creative day out.
---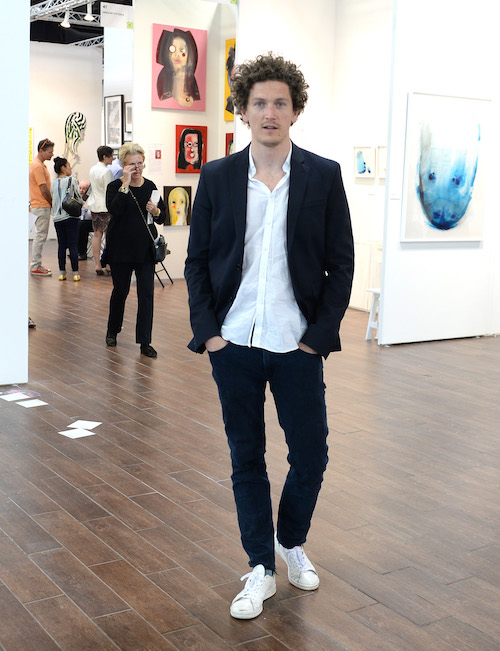 Welcome To The Other Art Fair
The Other Art Fair was born from a realization of the disparity between an audience eager to discover the next big thing and talented artists struggling to gain recognition. Ten years on, the effects of the Fair's growing reputation are not only demonstrated through the support of leading individuals in the art world but also the frequency of success stories from past exhibitors.
We are delighted that so many of our artists have been successful within the traditional gallery system: as prestigious international galleries choose to represent our artists, these individuals emerge in the spotlight of the art world as the names of the future. In addition, the nature of the Fair attracts artists with an entrepreneurial flair and long-term vision who recognize the value of the fair beyond artwork sales.
Thank you to all artists, visitors, and friends who have supported the Fair over the past ten years.
Ryan Stanier
Fair Founder, The Other Art Fair
---
FALL 2021 SELECTION COMMITTEE
Applicants to The Other Art Fair benefit from a juried selection by art industry experts. The Selection Committee changes with each edition of the Fair to ensure that a fresh perspective is brought to each selection process. These members of a globally significant art community set the high standard of the Fair, ensuring art lovers can buy from Fair artists with the confidence that they are investing in the very best emerging talent.
NOVEMBER 2021 SELECTION COMMITTEE MEMBER
Johnny Thornton
Johnny Thornton is an artist, curator and art director that lives and works in Brooklyn, NY. Born in Connecticut, he spent his childhood in Johannesburg, South Africa, before moving to Tucson, Arizona, where he studied Fine Arts at the University of Arizona. He received his Masters of Fine Arts from Parsons the New School for Design in New York City. Thornton has had work exhibited throughout the United States and is part of several collections. Currently, Thornton works out of his art studio in Gowanus and is the Head Curator/Gallery Director at Established Gallery in Brooklyn. In 2020, Thornton became the Executive Director of Arts Gowanus.
NOVEMBER 2021 SELECTION COMMITTEE MEMBER
Olivia Tucker
Joining The Hoxton in 2017, Olivia has been part of the teams that opened The Hoxton's in Paris, and the stateside brand entry with Williamsburg, Portland, Chicago, and most recently, Los Angeles. As North American Brand Director, Olivia's focus has been on building community across the hotels US cities, providing platforms for local and emerging artists, designers and creators to showcase their work, and instilling brand continuity across The Hoxton's hotels, staying true to the values of being an inclusive and welcoming space for locals and guests alike.
Prior to The Hoxton, Olivia worked for NeueHouse, Anthropologie, Oscar de la Renta, Kelly Wearstler and others. She graduated from Parsons School of Design.
NOVEMBER 2021 SELECTION COMMITTEE MEMBER
Yvena Despagne
Yvena Despagne is a Haitian artist and art curator, based in New York City, who has a focus on highlighting emerging and mid-way career artists and their stories. She is also the owner and Creative Director for Art x Ayiti, an online platform dedicated to highlighting and uplifting contemporary artists of Haitian descent and the Diaspora. Yvena aims to encourage and provide opportunities for artists, who are interested in intercultural collaboration, dialogue and to indulge in the culture, while expanding on their individual talents.  Yvena has curated art exhibitions throughout Brooklyn, NY and is currently an Associate Curator at Arts Gowanus and Established Gallery.
Ready to find your new favorite artwork and meet some of the best emerging artists out there?
Visit The Fair
Like what you see? Experience all this and more at our Fall Brooklyn edition.
Visiting Information & FAQs
Find out more information on getting to the Fair, our Safer Fair Plan, or read our FAQs.