Experience Art Differently
Presented by Saatchi Art, The Other Art Fair is the leading artist Fair to discover and buy art directly from the very best emerging artistic talent. Founded in London, UK in 2011, the Fairs are now strongly established across North America, the UK, and Australia, with annual and biannual editions across the globe in New York, Chicago, Dallas, Los Angeles, London, Melbourne, Sydney, and Toronto – and plenty more to come!
The Spring and Fall New York Fairs give art lovers the opportunity to meet a curated selection of 130 independent artists and browse thousands of pieces to suit every budget under one roof. With prices starting from as little as $100, this is an art fair for everyone. Whether you're a first-time art buyer, seasoned collector, curator, investor, gallery owner, art lover or anything in between, you are guaranteed to find something to add to (or start!) your collection.
Plus, with performances, DJ sets, immersive art installations and a fully-stocked bar awaiting you, The Other Art Fair is more than your usual art fair experience and has everything you need to enjoy a cultural, creative day out.
---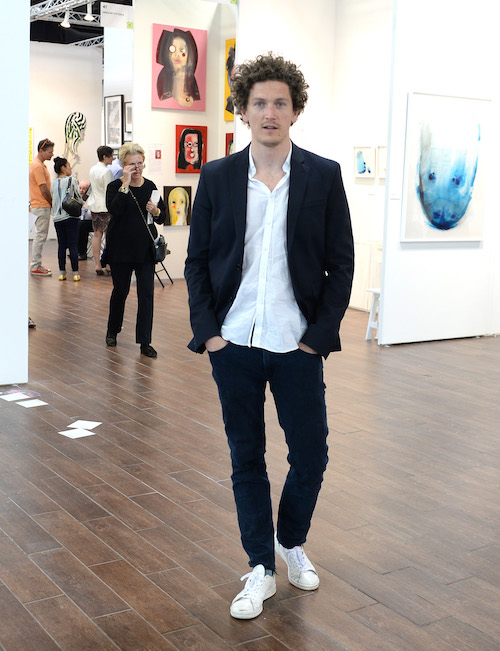 Welcome To The Other Art Fair
The Other Art Fair was born from a realization of the disparity between an audience eager to discover the next big thing and talented artists struggling to gain recognition. Ten years on, the effects of the Fair's growing reputation are not only demonstrated through the support of leading individuals in the art world but also the frequency of success stories from past exhibitors.
We are delighted that so many of our artists have been successful within the traditional gallery system: as prestigious international galleries choose to represent our artists, these individuals emerge in the spotlight of the art world as the names of the future. In addition, the nature of the Fair attracts artists with an entrepreneurial flair and long-term vision who recognize the value of the fair beyond artwork sales.
Thank you to all artists, visitors, and friends who have supported the Fair over the past ten years.
Ryan Stanier
Fair Founder, The Other Art Fair
---
SPRING 2022 SELECTION COMMITTEE
Applicants to The Other Art Fair benefit from a juried selection by art industry experts. The Selection Committee changes with each edition of the Fair to ensure that a fresh perspective is brought to each selection process. These members of a globally significant art community set the high standard of the Fair, ensuring art lovers can buy from Fair artists with the confidence that they are investing in the very best emerging talent.
JUNE 2022 SELECTION COMMITTEE MEMBER
Johnny Thornton
Johnny Thornton is an artist, curator and art director that lives and works in Brooklyn, NY. Born in Connecticut, he spent his childhood in Johannesburg, South Africa, before moving to Tucson, Arizona, where he studied Fine Arts at the University of Arizona. He received his Masters of Fine Arts from Parsons the New School for Design in New York City. Thornton has had work exhibited throughout the United States and is part of several collections. Currently, Thornton works out of his art studio in Gowanus and is the Head Curator/Gallery Director at Established Gallery in Brooklyn. In 2020, Thornton became the Executive Director of Arts Gowanus.
JUNE 2022 SELECTION COMMITTEE MEMBER
Katerina Stathopoulou
Katerina Stathopoulou is a curator specializing in photography and public art based in New York. She is currently the Associate Curator at the Public Art Fund. Prior to PAF she held curatorial roles at The Museum of Modern Art and the International Center of Photography. Her most recent projects include co-curating the Thessaloniki PhotoBiennale 2021 in Greece and organizing solo exhibitions with artists Martine Gutierrez, Farah Al Qasimi, Claudia Wieser, and Elle Perez. She is a contributing author to numerous publications, including The Real and the Record (2021), Art 21 (2020), Ai Weiwei: Good Fences Make Good Neighbors (2019), Among Others: Blackness at MoMA (2019), MoMA Highlights: 375 Works from The Museum of Modern Art (2019).
JUNE 2022 SELECTION COMMITTEE MEMBER
Maryam Ghoreishi
Born in 1983, Iran, Maryam Ghoreishi is an independent artist, curator, and arts administrator based in Brooklyn. She received her B.F.A and M.F.A in Iran and her M.A in Visual Arts Administration from New York University. As an artist she participated in various solo and group exhibitions in Iran, Lebanon, Italy, England, Canada, and the U.S. She worked as a Curatorial Fellow for Asia Contemporary Art Week (ACAW) and organized Open Studios Program, in New York and FIELD MEETING Take 6:  Thinking Collections, in Dubai. Most recently Ghoreishi curated Out of Sight, Beyond Touch, at the Center for Book Arts, New York, 2021, which was featured in Hyperallergic and Special Week of Shows-within-a-Show on Art at a Time Like This online platform. Her upcoming exhibition is a solo show by Yasi Alipour at 12Gates Gallery, Philadelphia, 2022, in collaboration with ACAW. Other curated shows include MAPPING OUT A FIELD, Zanbeel Art, Los Angeles, 2020 and Who Really Cares, Cathouse Proper, Brooklyn, 2019. As part of ACAW programs, she co-curated Pop-up Exhibitions, Alserkal Avenue, Dubai, 2019. Currently, she works as Program Manager at Residency Unlimited.
Ready to find your new favorite artwork and meet some of the best emerging artists out there?
Visit The Fair
Like what you see? Experience all this and more at our next edition.
Visiting Information & FAQs
Find out more information on getting to the Fair, our Safer Fair Plan, or read our FAQs.