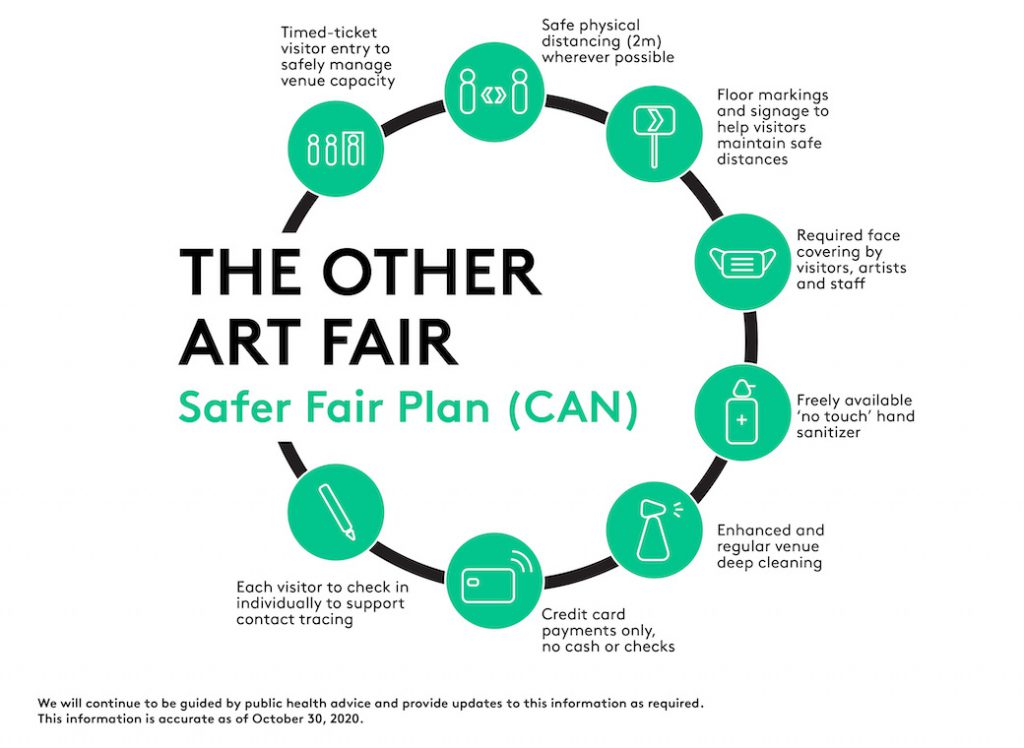 It is important to us that both artists and visitors alike feel comfortable in attending The Other Art Fair, Toronto. Therefore, in accordance with current public health guidelines, we have introduced a series of important operational changes as part of our new Safer Fair Plan. We will continue to be guided by public health advice and provide updates to this information as required.
Before you book your tickets, we ask that you read this information, which we hope will give you peace of mind ahead of your visit.
Should you have any questions please contact the Fair team directly via email at info@theotherartfair.com

This information is accurate as of October 30, 2020.
Creating a Safer Fair
All ticket holders will select their preferred time of arrival when they purchase their ticket. This will allow us to manage the number of people inside the event and provide a relaxed and comfortable environment for all visitors.
There will be floor markings, signage and event staff to help visitors maintain safe distances while enjoying the Fair.
We have increased the aisle width between artists booths to allow visitors to safely meet with artists and discover art.
Required face coverings to be worn by visitors, artists and staff.
Hand sanitizer will be freely available, and we encourage all attendees, staff and artists to use it.
There will be enhanced and regular deep cleaning processes before, during and after each day at the Fair.
Only contactless payments such as credit cards will be accepted. There will be no cash transactions at the event.
If you are exhibiting symptoms of COVID-19, we will respectfully ask you to leave. 
How You Can Help Us. . .
Thank you in advance for your understanding of the need to implement these guidelines.
Wherever possible, ensure you follow public health guidelines while in public
Practice safe social distancing and keep at least 2m from fellow visitors, artists and staff as much as is practically possible.
We require you to wear a face covering at all times.
Use the hand-sanitizer provided at a various locations throughout the Fair
Be mindful and refrain from touching artworks unless you intend to make a purchase and take it home 
Please do not visit if you are experiencing any cold, flu or  COVID-19 related symptoms, including fever, loss of taste, cough, etc., or have returned from overseas in the last 14 days. If our staff feel you are displaying symptoms, we will respectfully ask you to leave. 
Wash your hands with soap for at least 20 seconds in our washroom facilities.
Please try and be as patient as you can. To allow us to practice safe social distancing  there may be increased waiting times to get into the Fair, at the bar or to use the washroom facilities. 
Your Safer Fair Checklist:
Book your timed-entry ticket online via our ticketing page (when available). We would also urge you to book your tickets in advance. As our venue capacity is managed to provide a safer environment for visitors, there is no guarantee tickets will be available at the door on the day.
Provide your name and contact details when booking your ticket to support contact tracing (anyone booking on behalf of others will be required to provide those people's contact details).
Arrive promptly for the timed entry you've booked and wait to be checked in by our Fair staff.
Bring a face covering with you, wearing one at all times is required. Face masks can also be purchased alongside your fair ticket and collected upon entry.
Bring a credit or debit card for any on-site purchases (all Fairs will operate with contactless payments only).
Avoid bringing large bags or excess oversized carry items, coat check will not be available. You will be required to keep all your own items on your person.
A maximum group size of four visitors will be allowed.
Do not visit if you are experiencing any symptoms of COVID-19, or have traveled overseas within 14 days of your visit to the Fair.
Plan ahead for your visit. You can preview all our featured Fair artists via the Online Studios and be sure to check out the incredible program of Fair features.  
Full ticketing information and frequently asked questions will be available on our TICKET INFO page soon. Please check back.