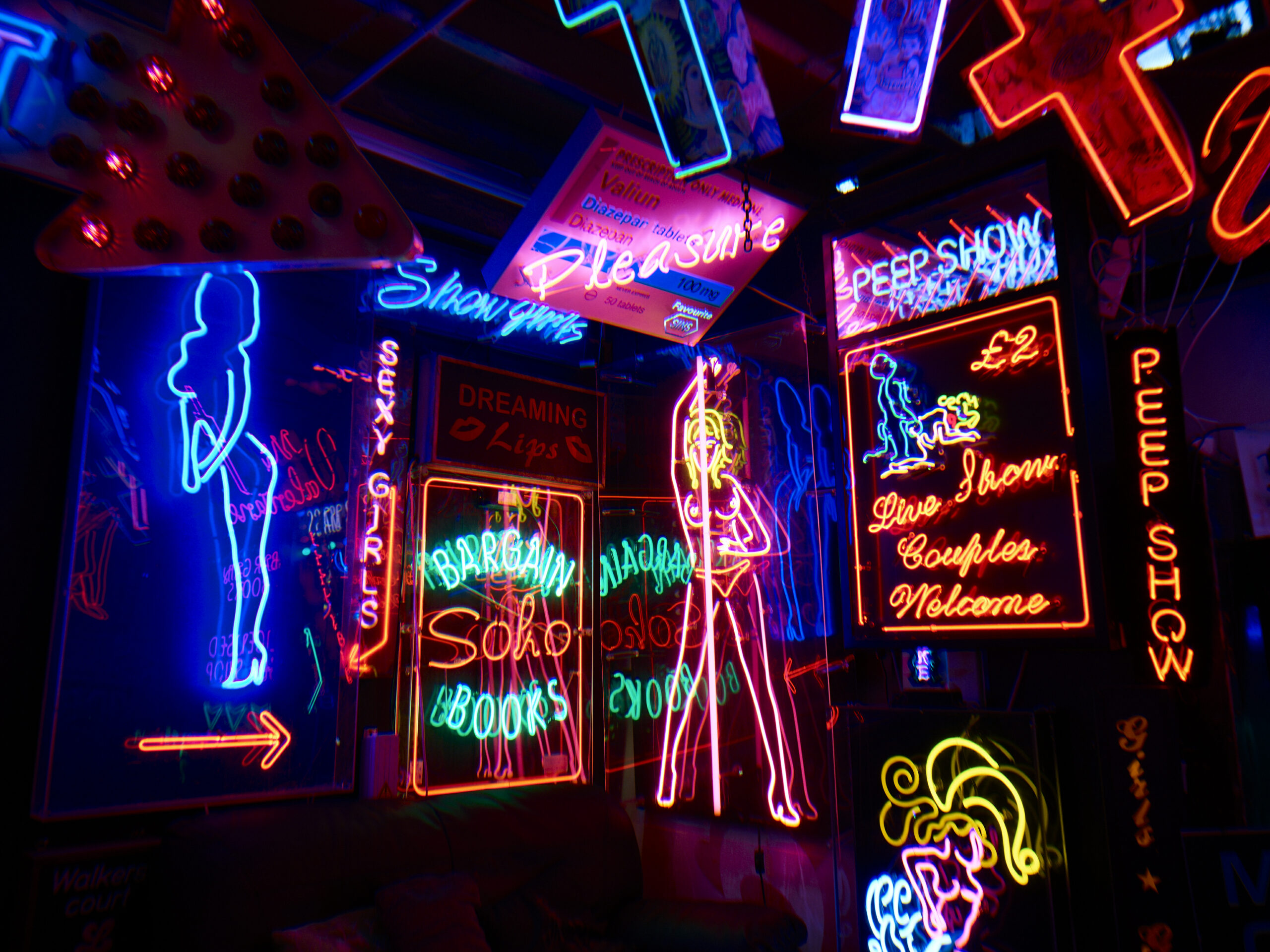 Discover the Legacy of Light
Guest Artist – Gods Own Junkyard
Join us in celebrating 70 years of luminous artistry with Gods Own Junkyard, a London institution that has illuminated the city's cultural landscape since its inception.
A Glowing Heritage
In 1952, former coalminer Dick Bracey founded Electro Signs, which later blossomed into Gods Own Junkyard. His journey from the Royal Navy to the neon-lit streets of Soho shaped the foundation of a family business that would leave an indelible mark on London's visual culture.
The Neon Renaissance of Soho
The 1970s saw Chris Bracey, Dick's son, infuse the Soho nightlife with a dazzling array of neon signs. By convincing nightclub and strip club owners to replace red lights with technicolor displays, Chris transformed the area into a vibrant, electric playground. Soho became synonymous with neon artistry, partnering with the "King of Soho" Paul Raymond to pioneer a neon renaissance.
Hollywood and Beyond
Gods Own Junkyard's influence extended far beyond London. In the 1980s, their neon creations became essential elements in films like Blade Runner and Batman, and their portfolio grew to include collaborations with renowned directors like Tim Burton. The neon masterpieces that once graced the silver screen now find their home in their Walthamstow venue.
Creating Visual Spectacles in Music Videos
Gods Own Junkyard's neon creations have set the stage for some of the most iconic moments in music video history. From the mesmerizing neon rings that encircled Blur in their 1990 hit "She's So High" to the electrifying PULP neon backdrop for the band's 1995 classic "Common People," their neon signs have become stars in their own right. Artists have continued to turn to the Bracey family for iconic backdrops, transforming ordinary music videos into visual spectacles.
A Neon Wonderland
Today, Gods Own Junkyard stands as a testament to the Bracey family's dedication to neon art. Gods Own Junkyard has been a wellspring of inspiration for artists, musicians, and fashion icons. From iconic pop music videos to collaborations with Louis Vuitton, Stella McCartney, and Alexander McQueen, their work has left an indelible mark on the world of fashion and entertainment. Experience the Light, join us at The Other Art Fair and immerse yourself in the radiant world of Gods Own Junkyard. From their captivating history to their dazzling neon creations, this is a celebration of seven decades of light, art, and inspiration.
Flashback to Soho: David Ellis x Gods Own Junkyard Pop Up Photo Studio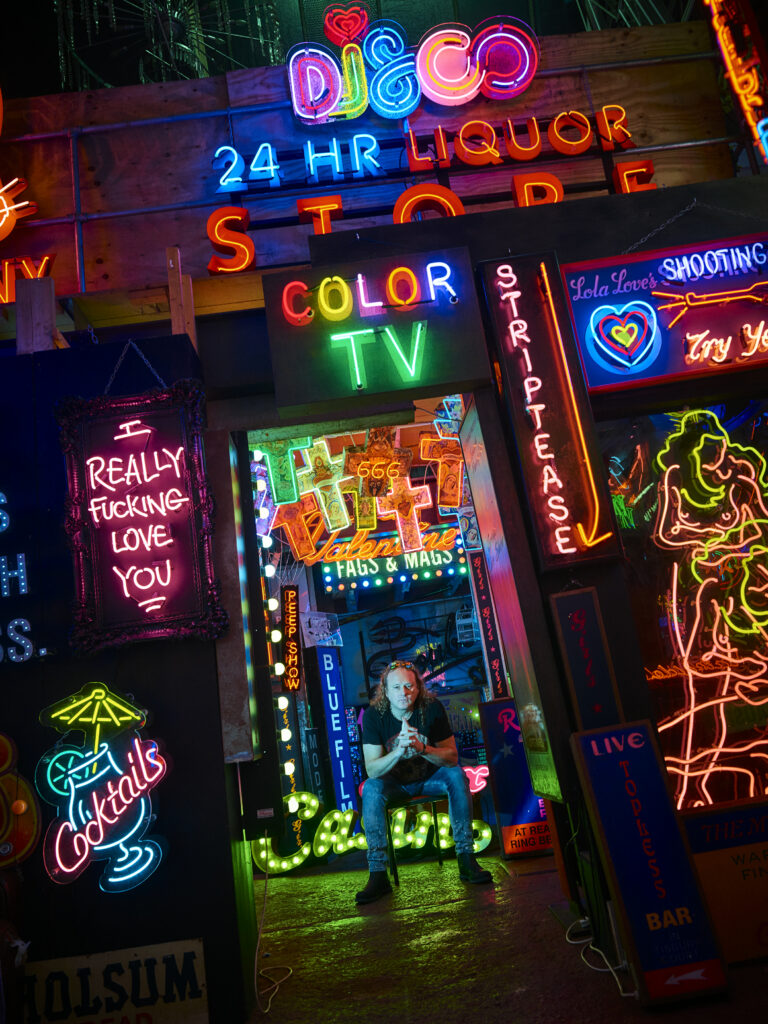 Dive into a mesmerizing journey back in time as we bring the electrifying spirit of 1970s Soho to life through the lens of renowned photographer David Ellis. Step into a world of neon, nightlife, and nostalgia at this exclusive pop-up studio, Gods Own Junkyard will create a 1970s-inspired install that will take visitors back to Soho, where much of their work first blazed out onto London's streets. Famed for their neon cheeky Girls Girls Girls artworks and signs for many iconic venues, Gods Own Junkyard was responsible for the neon glow that Soho is famed for today. The introduction of neon signage became emblematic of Soho's vibrant and eclectic character during that era.
Renowned Photographer David Ellis
David's portfolio is a treasure trove of memorable moments. From constructing an "ice universe" for Justin Timberlake's photoshoot to being the last photographer to capture Amy Winehouse before her untimely passing, his work reflects a unique blend of creativity and connection. David's lens has captured legendary figures and worked with major brands. From Sir David Attenborough to Cristiano Ronaldo, and from Adidas to Netflix, his visual storytelling has transcended boundaries.
A Pop-Up Photography Studio Like No Other
This October, David Ellis joins forces with Gods Own Junkyard, the iconic neon brand celebrating its 70th year. At The Other Art Fair at Truman Brewery, visitors have a unique opportunity to step in front of David's lens and become part of a magazine-style art piece. Don your best 70's garm's as you step back in time to relive the glamour, creativity, and freedom of this unforgettable era in this photo studio filled with iconic neon signs.
Don't miss this chance to experience the magic of David Ellis's photography studio at The Other Art Fair from October 12-15th. Step back in time, capture the essence of a bygone era, and create your own unique piece of art.
Illuminating the Past: Gods Own Junkyard's 70-Year Journey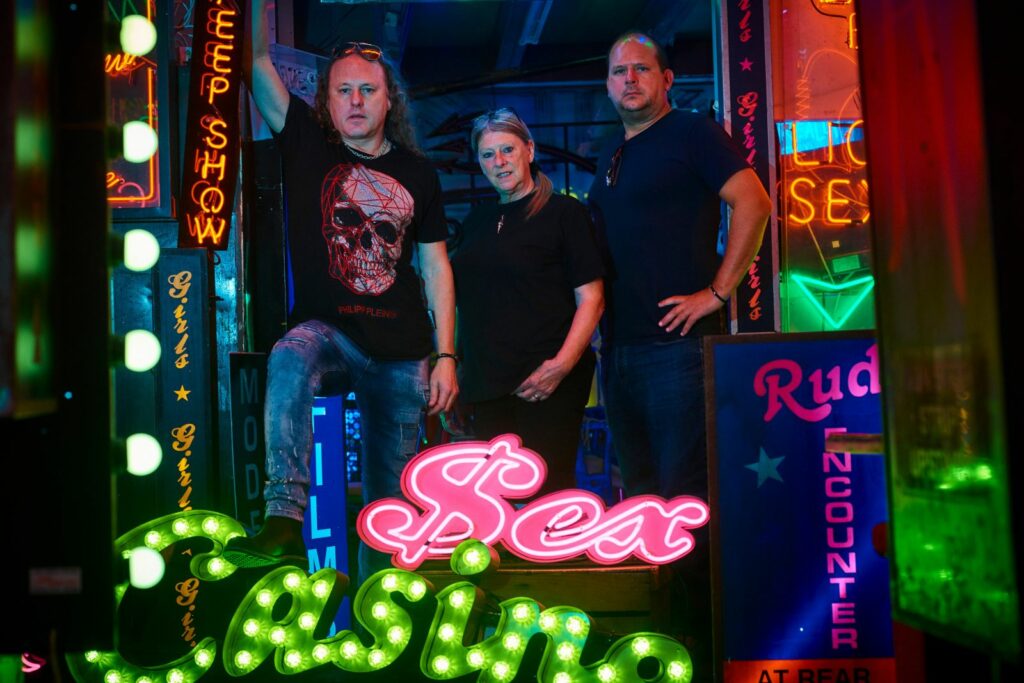 Friday, 13 October
7.30pm – 8.30pm
Drop in
Join us on Friday, October 13th, as Gods Own Junkyard takes you on an illuminating journey through seven decades of neon artistry. Discover the captivating history of this iconic family business, from its humble beginnings to becoming London's neon wonderland. Hear the tales of neon's transformation in Soho, its role in music videos, and its influence on popular culture. Get ready to immerse yourself in the vibrant world of neon and uncover the stories behind some of London's most iconic neon signs. Don't miss this unique opportunity to delve into the Neon Chronicles with the Bracey family themselves.
Buy tickets to The Other Art Fair and be part of an unforgettable evening of neon nostalgia.