Your art adventure awaits. See what we've got in store for you this May 12-15.
130 EXHIBITING ARTISTS

Who's on your list? Meet 130 game-changing artists and shop their works. Click here to view the full artist lineup.
GUEST ARTIST: ANNA MARIE TENDLER
Known most recently for her photography series 'Rooms in the First House,' multi-disciplinary artist Anna Marie Tendler joins as our Guest Artist to exhibit frame works, unframed fine art prints, and posters. But wait… there's more.
You'll have the exclusive opportunity to have your own portrait captured in a pop-up portrait studio by Tendler herself. This experience sold out at our Los Angeles and Chicago Fairs. Sessions are limited, to learn more click on the photo above.
FEATURES
WATERCOLOR WORKSHOP WITH BRIE MILAM
Get ready to paint yourself calm! In this welcoming beginner watercolor workshop, Dallas-based artist & instructor Brie Milam will guide you through the basics of watercolor, including different brush strokes, color mixing, and the wet-on-wet technique. As you paint with step-by-step guidance from Brie Milam, you'll focus on practicing mindfulness as a tool to improve focus, increase creativity, and reduce stress in your everyday life.
Limited space available per workshop. Each seat in the Watercolor Workshop is $30. We've done you a solid—your Fair ticket ($15) gets you one foot in the door. Add on your workshop when you purchase your Fair tickets. Follow Brie Milam on Instagram @briemilam or Facebook at @briemilam.
Friday

,

 May 13th

 at 7

pm 

Saturday

, May 14th

 at 12

:30pm and 4:30pm

Sunday

, May 15th

at 12:30pm and 4:30pm
LIVE DJ SETS
Feel the music through your body as you discover interactive curiosities. Live DJ sets on:
Thursday May, 12 from 6 – 10 p.m. with DJ Unladylike (@djunladylike)
Friday, May 13 from 6:30 – 9 p.m. with DJ Save Aves (@djsaveaves)
FRESH GREENERY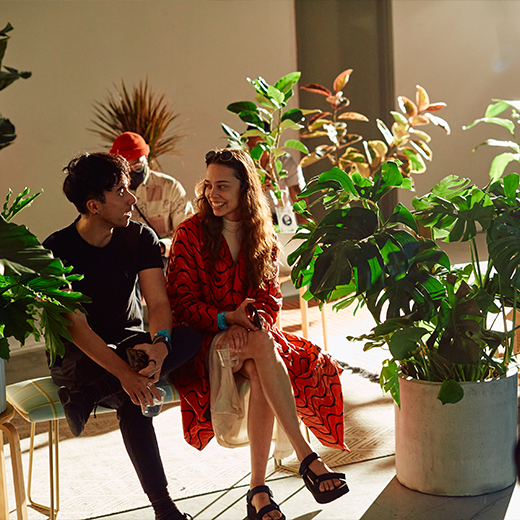 In need of new plant babies? Known for being the first Latina-owned plant shop, Raiz Plant Studio, will be joining us to set you up with some fresh vegetation. Check them out on Instagram at @raizplanstudio.
MINDFULNESS MANDALA
Inspired by Deepa's practice of breathwork and artful meditation in her own work, now's your chance to leave your 'botherations' behind and hone in on personal affirmations and manifestations while contributing to a community mediative piece with Dallas-based artist, Deepa Koshaley. Follow Deepa Koshaley on Instagram @deepa_koshaley_art
IMMERSIVE INSTALLATIONS
Brace yourself (and your camera roll) for awe-inspiring projects. "To Cactus, with Love" by Dallas-based artist Corey Godfrey (@coreygodfreyart) and a textile installation and "The Comfort of Nostalgia" by Cristina Ayala (@cristinaayalastudio) to name a few.
FRIDAY LATE
Grab a complimentary BOMBAY SAPPHIRE® cocktail and groove to live DJ sets by DJ Save Aves while you discover thousands of unique artworks, interactive curiosities, and more. Book tickets for Friday, May 13 from 6:30 – 9 p.m.
GUIDED TOUR
Join a guided tour led by a curator from Saatchi Art's art advisory team. Tours available on Thursday, May 12 at 7 p.m. and Saturday, May 14 at 1 p.m. RSVP for a tour when you book your Fair tickets.
LIMITED EDITION PRINT DROP
Grab a limited edition (of 100) print, designed by Mich Miller (@michmillerprint). Available exclusively at our Dallas Fair for $25. Proceeds to benefit our non-profit partner, Resource Center (@myresourcectr). Resource Center pursues societal equity by proudly offering LGBTQIA+ affirming resources designed to improve health and wellness, strengthen families and communities, and provide transformative education and advocacy.
COMPLIMENTARY ART WRAPPING
Our partner Fine Art Productions (@fgiiifineartproductions) will be on-site wrapping your newly found art pieces for safe transport.