Curious encounters ahead. See what we've got in store for you this April 27 – 30.
Plan Your Visit
Here you'll find all the information you need to help plan your day (or days!) at The Other Art Fair Chicago. We're known for our immersive art experience, and we can't wait for you to experience just that this April 27 – 30 —from interactive displays, collage-making workshops, murals, live DJ sets, refreshing cocktails, and Chicago's top food trucks, there's something for everyone!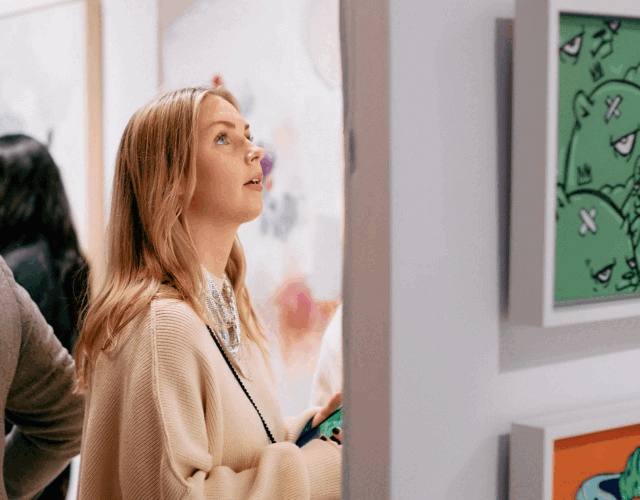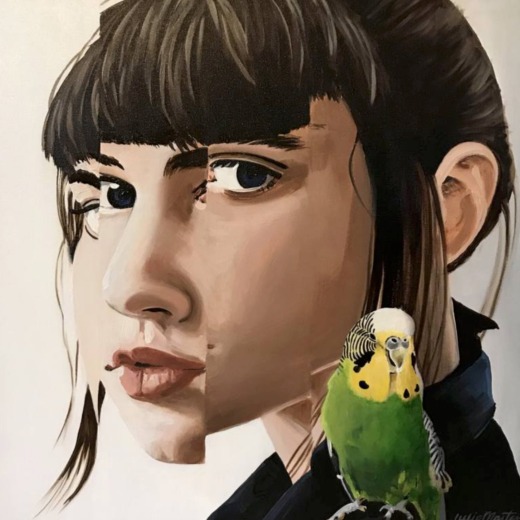 Meet Our Artists
Who's on your list? Browse original and limited edition artworks by 110 independent artists. Discover artworks starting from $100 and in a variety of different mediums – there will be something for every budget and taste!
Have a peek at our exhibitor list.
New Futures Chicago Class of 2023
Ray Madrigal (They/Them)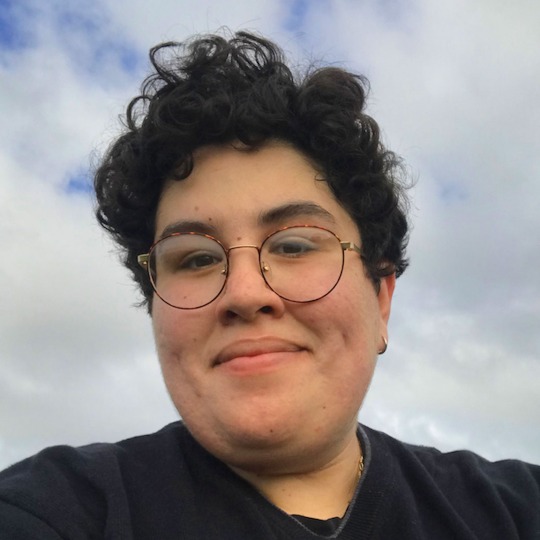 Ray Madrigal (b.1999) is trying to think clearly in a foggy time, and making helps them do that. Madrigal hopes that whatever clarity, absurdity, and medicine they dig up in their own work may also be experienced by those who encounter it. They have a queer soft spot for things that are trying their hardest (and often failing) to be something they are not.
Theo Schweiger萧世通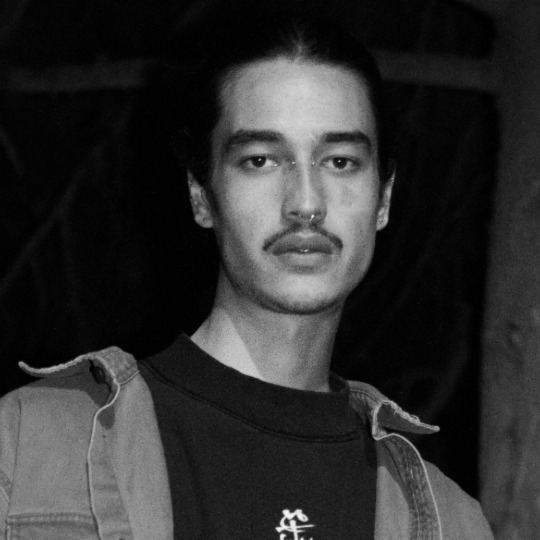 Theo Schweiger萧世通 (b. 1998) is a multidisciplinary artist from Shanghai and San Francisco, currently living in Chicago. His focus is on painting, drawing, and photography, working primarily with figure and experience to explore the basis of subjective reality: perspective, emotion, reflection, unconscious, and time. Tormented by forgotten moments and intangible figures, Theo 萧世通 works tirelessly to preserve what he can of the past while exploring the nuances of life in the present. His artwork emphasizes the fleeting and malleable nature of existence by embracing the unforgiving, cyclical relationship between imagination, hope, and memory.
Emilie Plunkett (They/Them)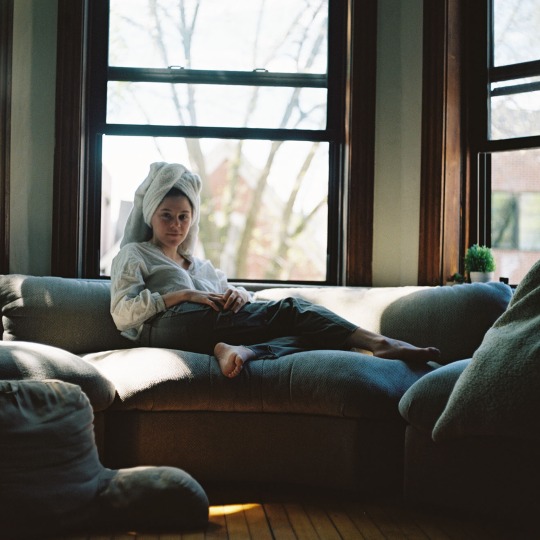 Emilie Plunkett (they/them) is a poet and photographer based in Chicago, their practice focuses on the domestic space and the mess, comfort and materiality of that intimate environment. They enjoy long walks by the lake, Alice Austen's photographs and plums.
AN EXPERIENCE UNLIKE ANY OTHER
Interactive art experiences for you to discover and immerse yourself in.
Friday Night Late – Presented By AMFM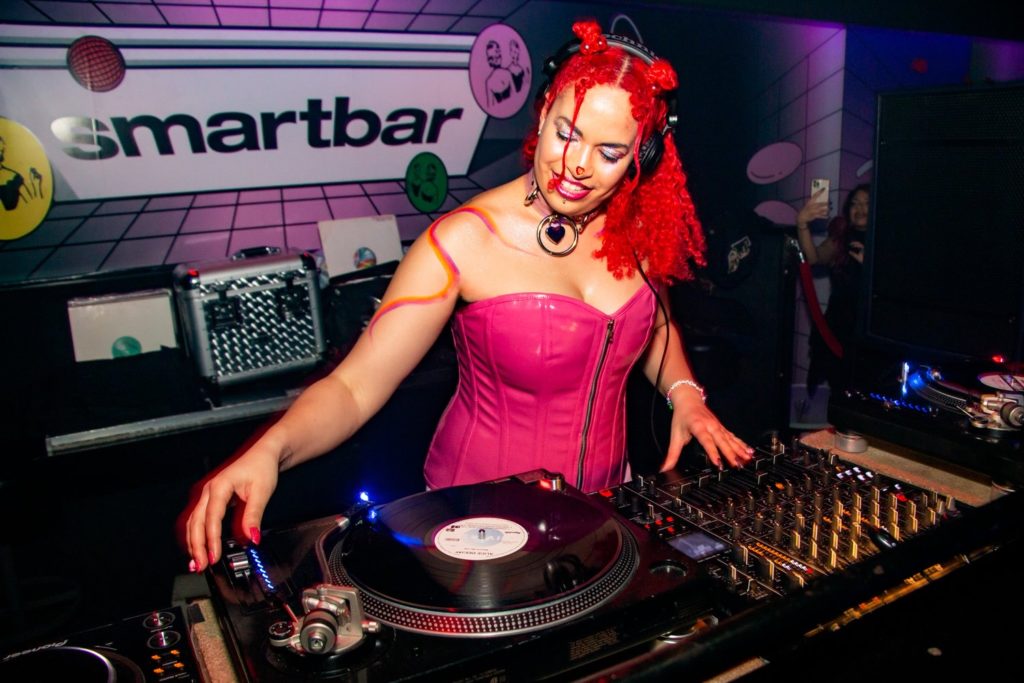 AMFM is a Chicago-based art platform that supports and features emerging and established artists through our website, which includes content with local artists and creatives from all over the globe, and through our curated events, exhibitions, partnerships, and activations. Through programming, AMFM combines the arts to cultivate community, diversity, inclusivity, intergenerational engagement, and of course, good vibes with a purpose, mission, or cause. Learn more about AMFM here.
Singles Mixer – Hot Potato Hearts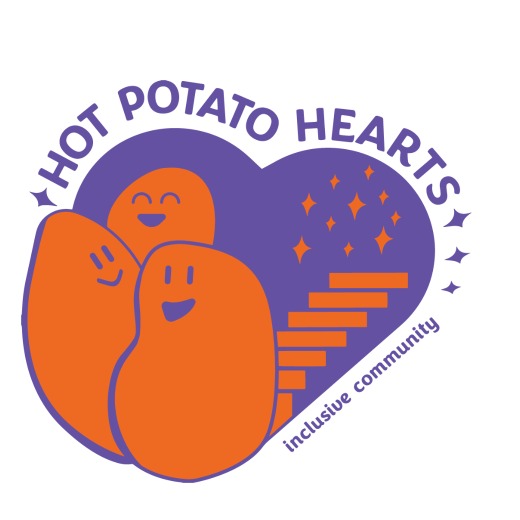 Planning to come solo? Don't worry, we've got you covered. Join us for a night of casual speed dating, presented by @hotpotatoheartshotpotato, and who knows? You might just leave with new friends or even a potential partner. Everyone is welcome to participate, so come and join us for some fun. 
At the fair Friday, April 28 at 7PM. Tickets can be purchased here.
Live Sets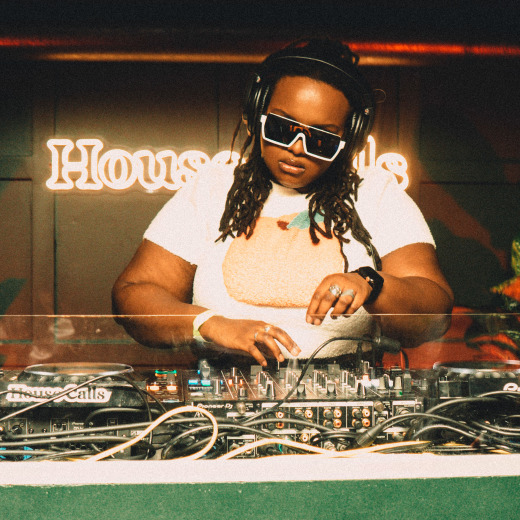 Friday Late, April 28  from 6-10PM
6-8PM: DJ CQQCHIFRUIT
CQQCHIFRUIT (Jacquelyn Carmen Guerrero, she/they) is a multidisciplinary artist of Cuban and Puerto Rican descent, originally from Miami, FL. Cqqchi's love and obsession with dance music began at an early age when she heard Miami bass, freestyle, trance, drum and bass, and other types of dance music broadcasted on Miami's radio stations, some coming live from night clubs across South Florida. They got their start as a DJ in 2013 playing with the Chances Dances collective in Chicago, along with their first exposures to house music and underground queer culture. Since then, they've performed in nightclubs, art galleries, museums, and festivals across Chicago, nationally, and internationally. Their approach to DJing comes from their love of dancing, and their sound incorporates elements from her Miami roots, Chicago/Midwest residence, and global interest, with an emphasis on tribal and vocal house, hypnotic trance, and banging bass. Jacqui is also an accomplished visual and performance artist, often adding visual and vocal flare to their DJ sets. Cqqchifruit is a cofounder of production company and artist duo of TRQPITECA, who currently hold a 2023 guest residency at Smartbar.
8-10PM: DJ Bonita Appleblunt 
Bonita Appleblunt (they/them) is a Chicago based multifaceted DJ and Audio Visual Professional who specializes in exploring the lineage of modern and underground genres with their African roots. Bonita has been nominated as Best Hip Hop DJ 2021 & 2022 by Chicago Reader's Best Of Chicago, and played a set at Afropunk Brooklyn in 2022. They continue to play all over Chicago at venues like Berlin, Retreat Currency Exchange, Virgin Hotels, and Sleeping Village to name a few. 
Special Performances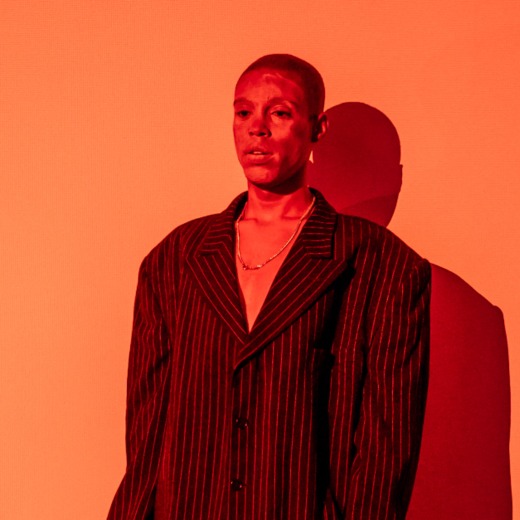 Friday Late Performances  
7:30PM- Ale Campos will present a drag performance as their persona, Celeste. Campos carries drag as a form of queer expression and performance with a reverence to its purest origins – the queer underground.
Ále Campos (b. Los Angeles, California) is a multidisciplinary artist and performer whose elastic studio practice is anchored by drag and their persona, Celeste. Their performances, often mediated by technologies (cameras, green screens, live-streams, projections), test the directions of the gaze and the scales of hyper-visibility, stretching the boundaries of the stage. Their live work naturally unfolds into sculpture, video and print-media at the hand of exploring ephemera and the after-life of performance. Drag is at once their material but also their scaffolding for performance making, guiding their efforts in returning to formative experiences and re-constructing familial archives and cultural mythologies. Through this process they strive to give shape to the constellation of their own intersectionalities whilst navigating a queer, future-thinking state of becoming. Their work harnesses the potential of melodrama, vulnerability and camp as an act of political resistance and vibrates between the traditions of both performance art and drag.
8:30PM- Bimbola Akinbola will present a performance that explores performance as a mode of remembrance and care to reflect tender moments of rest and connection.
Bimbola Akinbola is Chicago-based artist and scholar. Working at the intersection of African diaspora studies, performance, visual culture, and postcolonial theory, Dr. Akinbola's scholarly work is concerned with kinship and belonging, gender performance, and affect in the African diaspora.
9:30PM- Jordan Brown will present a performance that explores history, folktale, and landscape to examine how memory and sensual knowledge lives within the body.
Jordan Brown is a visual artist and performer. His interdisciplinary work in textile, sculpture and performance has been exhibited at Never Apart Gallery (Montreal, QC), Clear Gallery (Tokyo, Japan), Dancemakers (Toronto, ON), Theatre Lachapelle (Montreal, QC), Sophiensaele (Berlin, Germany), and Espaço Alkantara (Lisbon, Portugal). In 2020, his video "Family Tree" won the Hybridity Award at the OFFTA Festival (Montreal, QC) for "successfully merging languages, materials, techniques, forms and processes of various kinds". As one-fourth of the Chicago-based Black performance art collective Suspended Culture, he has performed at No Nation Art Lab, Links Hall, Ohio University and the Mois Multi Interdisciplinary Arts Festival in Quebec City, QC. Jordan will complete an MFA in Sculpture at the School of the Art Institute of Chicago in May of 2023.
Garrett Popcorn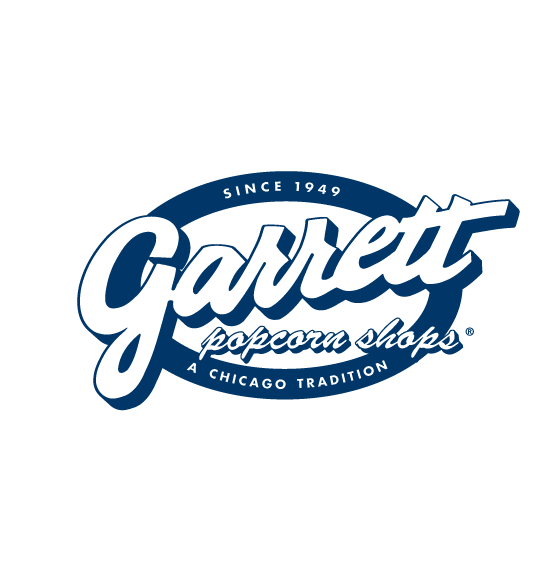 Sweet or Savory? Why not both?
Indulge in Chicago's favorite popcorn with Garrett Popcorn. They'll be offering goodie bags filled their fan favorites and other staple flavors. Snack away as you find new favorite artworks.
Since 1949, Garrett Popcorn Shops® has been handcrafting gourmet popcorn recipes in small batches from scratch. Garrett fans created the original, Chicago-style popcorn that mixes cheese and caramel, which is famously known as Garrett Mix®.
Enjoy free samples Thursday – Sunday.
Explore unforgettable art installations and collections throughout the Fair.
Art Proficiency Art Installation Services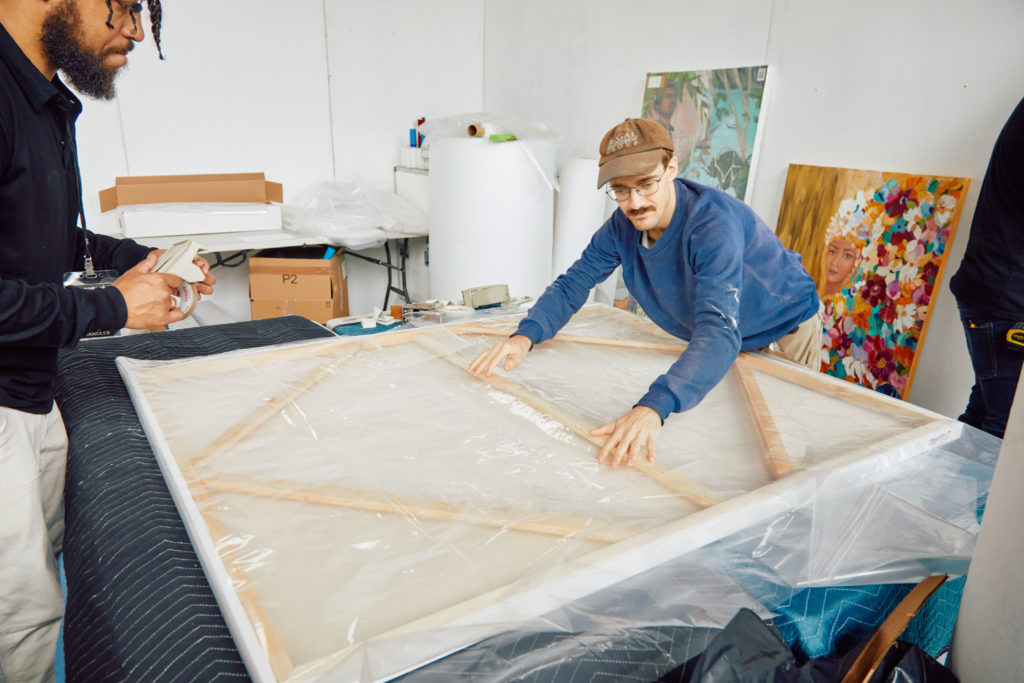 Art Proficiency will be on-site all Fair long wrapping your new found obsessions free of charge for safe transport. Need to ship? Art Proficiency can provide a custom quote for you.
Swing by the outdoor lounge area where you'll find delicious eats from some of Chicago's top food trucks
Soul & Smoke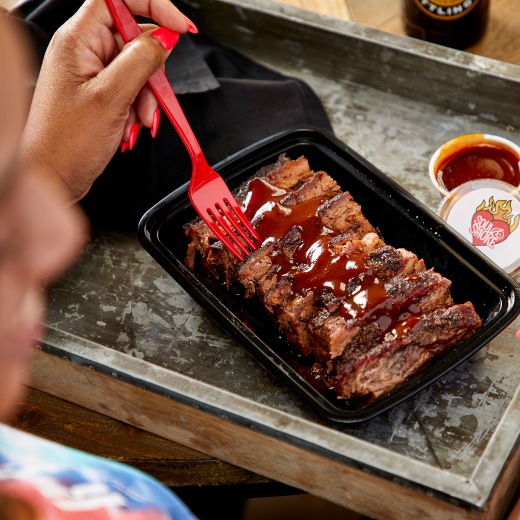 Soul-pleasing barbecue that's worth the potential slip-up of barbecue sauce brought to you by @soulandsmoke. Comfort food that deserves your attention and attendance.
Stop by the Fair Thursday – Sunday to enjoy.
Fat Miilk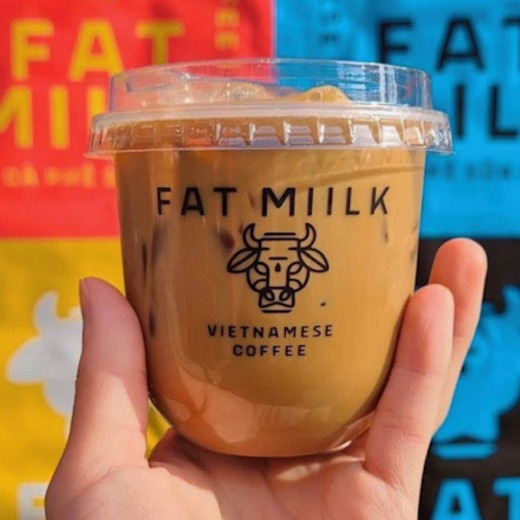 Woman-owned Vietnamese coffee. The story behind this coffee brand is even better than the coffee and that's quite the feat. Check out their story @fatmiilk.
Enjoy a cup or two at the fair from Thursday – Sunday.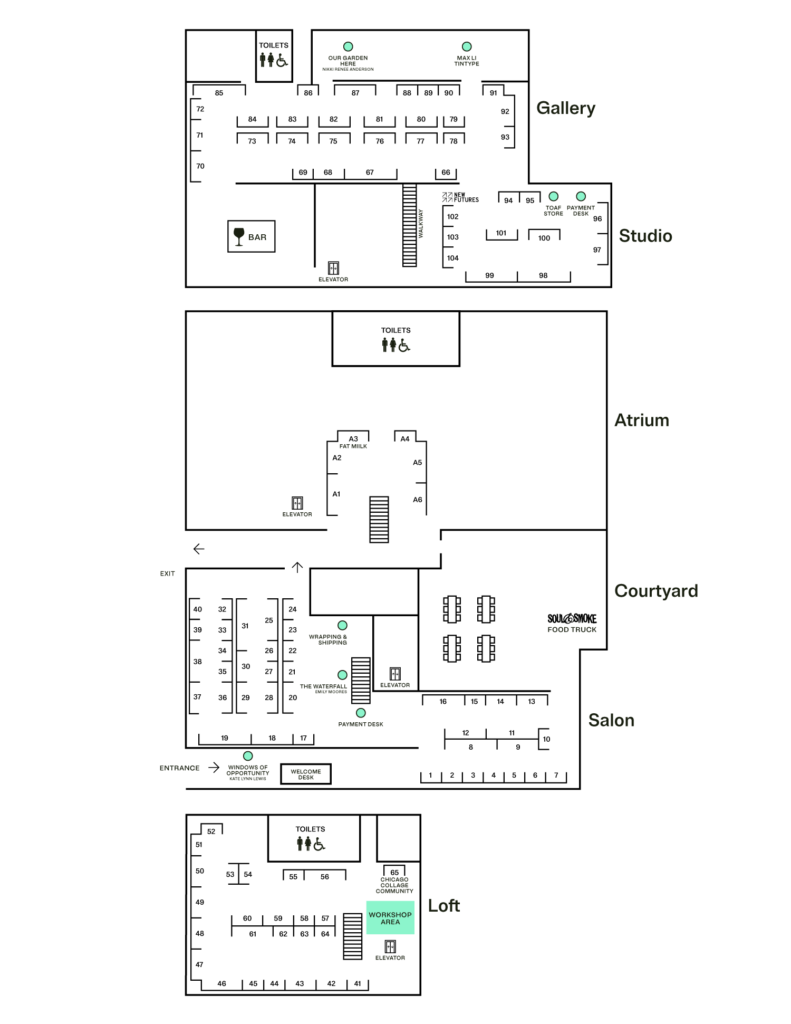 More Surprises Inside
There's so much more in-store. Experience performances, installations, and other mysteries unlike anything you've seen before.