The Other Art Fair Chicago returns on April 21-24, 2022 to Fulton Market.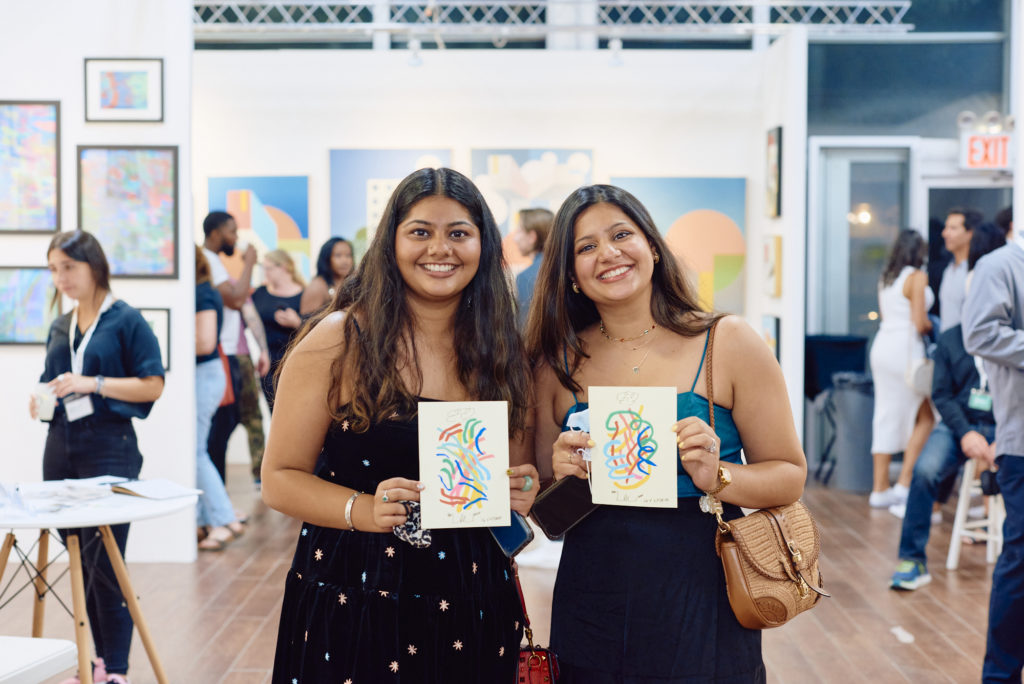 Opening Hours
THURSDAY, APRIL 21: PRIVATE VIEW
An exclusive first look at the Fair and artworks – plus unlimited re-entry on the General Days (Friday-Sunday). Choose from two entry time slots.
6pm-8pm
8pm-10pm
FRIDAY, APRIL 22 – SUNDAY, APRIL 24: GENERAL DAYS
Choose from two-three entry time slots on each day.
FRIDAY, APRIL 22:
3pm-5pm
5pm-7.30pm
7.30pm-10pm
SATURDAY, APRIL 23:
11am-1.30pm
1.30pm-4pm
4pm-7pm
SUNDAY, APRIL 24:
11am-1pm
1pm-3pm
3pm-5pm
---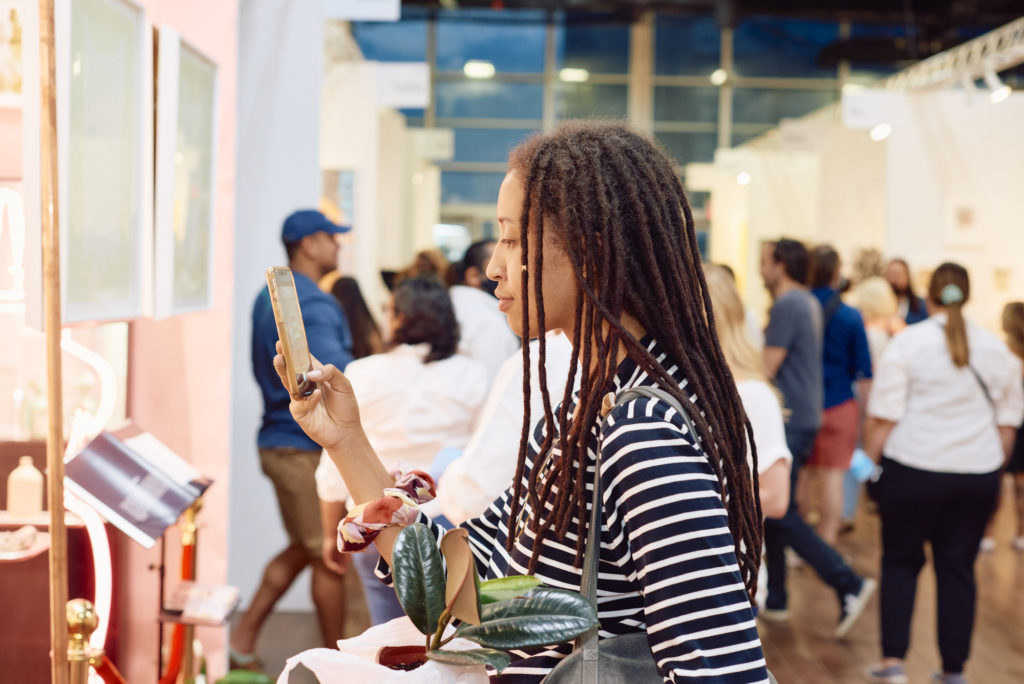 Ticket Prices
Tickets can be booked on our website and are arranged by entry time slots to manage capacity.
Private View Tickets (Advance Purchase): $35 + Sales Tax
Includes unlimited re-entry to the Fair on General Days (Friday-Sunday).
Private View Tickets (On The Day Purchase): $40 + Sales Tax
General Entry (Advance Purchase): $18 + Sales Tax
On sale on the website until 11:59pm EST the day before each Fair day.
General Entry (On The Day Purchase): $20 + Sales Tax
On sale on the website and on the door of the event. On The Day prices will be live from 12am EST of that Fair day.
Children under 12 years old do not need to buy a ticket and do not need to show proof of vaccination.
For a 10% ticket discount for students and seniors, please contact hannah@theotherartfair.com
Please note: Ticket refunds will only be accepted up to 24 hours before The Other Art Fair Chicago starts (by 5:00pm, Wednesday, April 20, 2022). You can request a refund via your Eventbrite account and ticket order.
---
COVID-19: Our Safer Fair Plan
It is important to us that both artists and visitors alike feel comfortable in attending The Other Art Fair, Chicago. Therefore, in accordance with current public health guidelines, we have introduced a series of important operational changes as part of our new Safer Fair Plan. We will continue to be guided by public health advice and provide updates to this information as required.
Before you book your tickets, we ask that you read this information, which we hope will give you peace of mind ahead of your visit. By booking a ticket, you and your guest(s) acknowledge the health and safety measures put in place at the time of attendance of the Fair. Required health and safety measures will be included in all pre-Fair email communications so you can properly prepare for your visit to the Fair.
Should you have any questions please contact the Fair team directly via email at marketing@theotherartfair.com
WHAT YOU NEED TO DO:
We will be asking all ticket holders to select their preferred time of arrival when they purchase their ticket. This will allow us to manage the number of people inside the event and provide a relaxed and comfortable environment for all visitors.
Face masks are recommended but optional for Visitors while attending the fair.
If you are exhibiting symptoms of COVID-19, we will respectfully ask you to leave.
Please do not visit if you are experiencing any cold, flu or  COVID-19 related symptoms, including fever, loss of taste, cough, etc., you've had contact with a known case of COVID-19  or you are currently under quarantine orders. If our staff feel you are displaying symptoms, we will respectfully ask you to leave. 
WHAT WE ARE DOING:
There will be greater social distancing at the Fair, with wider aisles between artists booths to allow visitors to safely meet with artists and discover art.
Hand sanitizer will be freely available, and we encourage all attendees, staff and artists to use it.
There will be enhanced and regular deep cleaning processes before, during and after each day at the Fair.
Only contactless payments such as credit cards will be accepted. There will be no cash transactions at the event.
Coat or bag check will not be available at the Fair to limit touch points. Please avoid bringing large bags or excess oversized carry items, as you will be required to keep all your own items on your person.
This information is accurate as of January 27, 2022.
---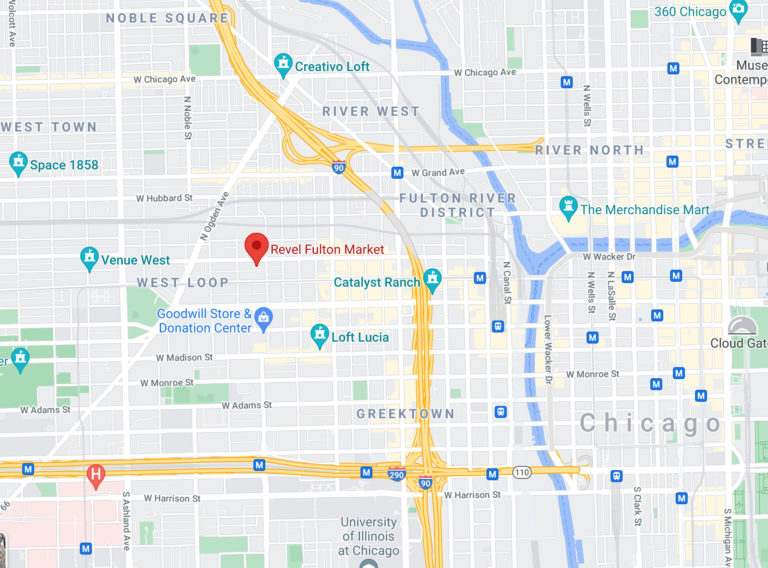 The Venue: Fulton Market
The Other Art Fair Chicago takes place in Fulton Market.
Fulton Market
1215 W Fulton Market
Chicago, IL 60607
(formally 'Revel' Fulton Market)
Click here to plan your journey to the Fair with Google Maps.
VENUE ACCESSIBILITY

The Fulton Market entrance is fully accessible from street level. ADA ramps are in place for access to mezzanine levels, the Ticket Desk and main event space, are all on one floor.
Accessible restrooms are available and can be found in the main restrooms at the venue.
Guide dogs are permitted entry to The Other Art Fair.
If you would like to report any accessibility issues onsite at the event please see the Front of House Manager at the Ticket Desk or a member of Security who can summon a member of the Management Team.
For advance accessibility requests please contact: daisy@theotherartfair.com
---
Ticketing FAQs
If the Fair is postponed due to the global health crisis or I am unable to attend the Fair due to feeling ill, will I receive a refund on my ticket?
We have introduced our new Ticket Guarantee allowing you to book your tickets with confidence. This guarantee will allow you to either transfer your ticket to a future date, or to request a full refund. This can be requested within your Eventbrite account.
Will I have to provide the details of everyone on my booking?
We will require all ticket holders to submit their contact information at the time of booking to enable us to support COVID-19 contact tracing. You will be able to manage your data opt in preferences as part of the booking process, should you wish. Guests or additional ticket holders may be required to complete their contact details onsite upon arrival.
Will there be tickets available to buy on the door?
We suggest that you book your tickets in advance where possible. Tickets for the Private View (Thursday) and General Entry Days (Friday-Sunday) will be available to purchase on the door for $40 and $20, subject to availability. Please check our Ticketing Page for information on which days still have availability.

Booking in advance will also save you money on our door sale prices, plus you can book in advance with confidence with our Ticket Guarantee, safe in the knowledge that your ticket is fully refundable or transferrable should you change your mind.
How should I present my ticket on arrival?
All tickets should be shown on your cell phone or tablet at the entry for scanning. If possible, we request you do not bring print at home tickets in order to reduce touch points and waste where possible.
Will there be lines to get in?
Due to our social distancing measures and check-in procedures, it may take slightly longer than usual to get into the Fair. Rest assured our team will be working hard to get you into the venue and enjoying yourself as quickly as possible. You can save time in advance by having the QR code on your digital Eventbrite tickets ready to scan upon entry.
I am worried about attending a large event but don't want to miss the Fair.
Organically, some sessions will be more popular than others. If you have any concerns about attending a busy event, we advise avoiding the Private View Evening, Friday evening session, Saturday afternoon session, and Sunday afternoon session, and look to attend the Fair at the beginning of the day. The less crowded sessions at the Fair include: Friday 3pm-5pm, Saturday 11am-1.30pm, and Sunday 11am-1pm.
Is there an age limit to attend the Fair?
There is no age limit to attend The Other Art Fair, however due to our licensing regulations, any visitor under the age of 16 will need to be accompanied by an adult.
This information is accurate as of January 27, 2022.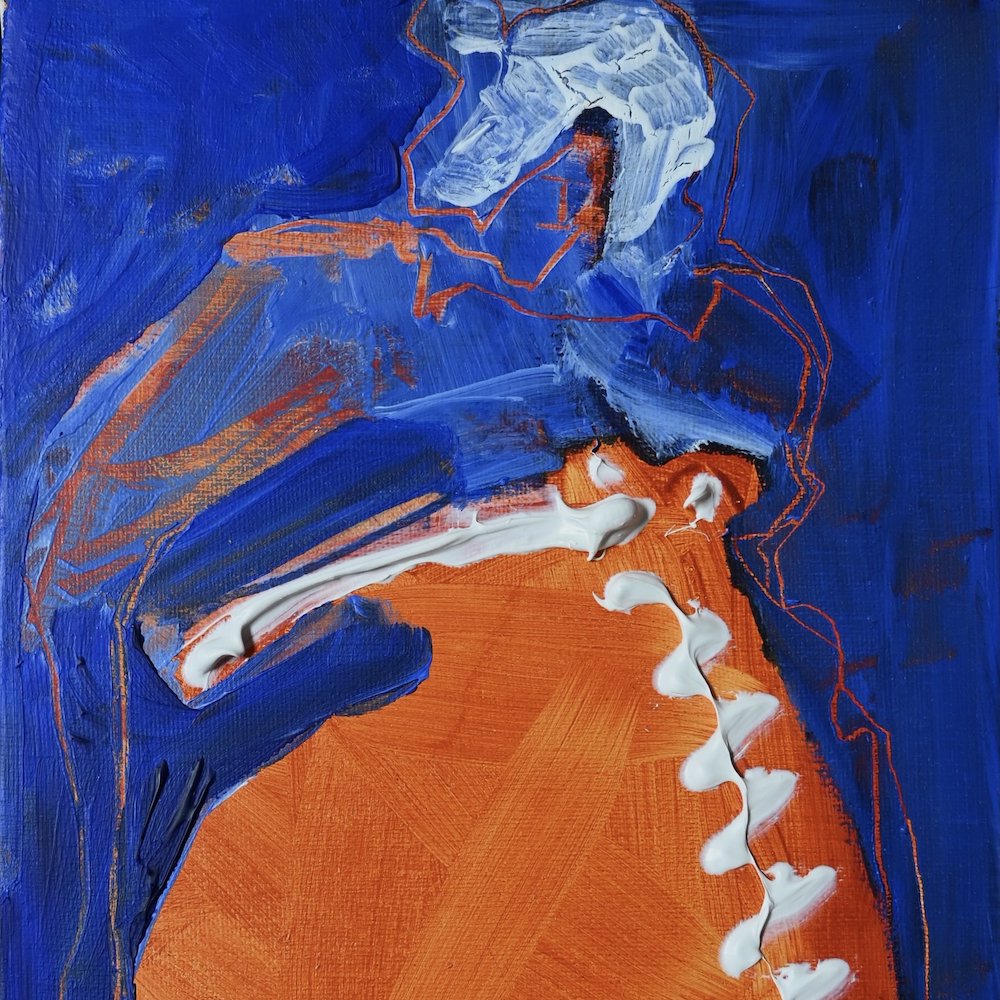 Ready to find your new favorite artwork and meet some of the best emerging artists out there?
Visit The Fair
Like what you see? Experience all this and more at our Spring Chicago Fair
Fair Guide
Find Out What Was On At The Fall Fair